Windows Phone 8: what to expect
29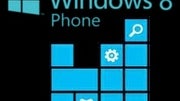 Okay, people, today is the big day.
Windows Phone 8 is expected to be officially unveiled
at 9:00AM PDT (1:00PM EDT) right after the opening of the 2012 Microsoft Developer Summit. Hype is high about this new major version of Microsoft's mobile platform for it is likely to be radically different from Windows Phone 7.5 that we know today – different on the outside, and even more on the inside.
Unfortunately, we don't know for sure what the list of newly-added features will include, at least not for now, but that does not stop us from taking another look at what has been rumored over the past few weeks. Let us begin with...
Support for high-resolution displays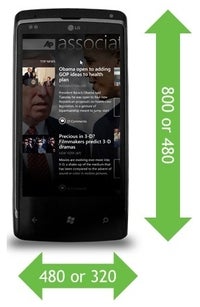 Windows Phone 7.5 supports nothing beyond WVGA resolution
When it launched back in 2010, Windows Phone 7 supported only two display resolutions: HVGA (320 by 480 pixels) and WVGA (480 by 800 pixels). Fast-forward two years into the future and we see that things have not changed a single bit. Windows Phone 8, however, is expected to get along well with high-res displays, as otherwise it will have a pretty hard time competing with other contemporary platforms. Android handsets with 720p displays are becoming more and more common, with offerings from HTC, LG, Sony, and Samsung already on the market, so 720p support in WP8 is an absolute must.
Multi-core processor support
This is another no-brainer.
Windows Phone 8 will most likely get multi-core processor support
, and if it does, we really hope that the software will take full advantage of that extra processing power. You know, not like the first dual-core Androids that didn't really use the second core that much. Probably the difference won't be that obvious while performing every-day tasks like writing e-mail or checking your calendar, as Windows Phone 7.5 already handles these things with grace. When using some processor-intensive apps, however, such as the web browser or a demanding video game, those extra cores should really come in handy.
A fresh, new mobile platform deserves a fresh, new mobile browser –
Internet Explorer 10
. One aspect, in which it will surely be better than its predecessor, is HTML5 processing, or at least that is what benchmark scores on the HTML5test web page suggest. While the current IE9 score stands at 138 points, tests performed using IE10 reach the respectable 300 points mark, not to mention that the software might do even better when finalized. In comparison, the Android 4.0 browser gets 275, while the one in iOS 5.1 reaches 324 points.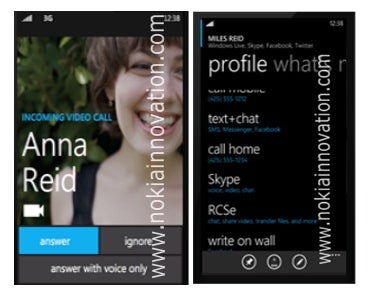 Alleged Windows Phone 8 screenshots hint at Skype integration
The popular VoIP service Skype, which is now owned by Microsoft, will be deeply integrated within Windows Phone 8. Think merging contacts with your address book, feed with mood updates appearing in the People hub, and things like that. Further details remain scarce, but we guess that Skype will finally be able to work silently in the background, not like the current WP version, which takes you offline seconds after your handset goes into stand-by due to crippled multitasking. Speaking of which...
Proper multitasking for third-party apps is something that Windows Phone sorely needs. Currently, if a non-stock application is suspended, bringing it forth again is preceded by a really annoying lag. Furthermore, third-party apps cannot do much while they are suspended, which is why Skype for Windows Phone currently does not run in the background, as we noted in the previous paragraph.
Nokia Maps to replace Bing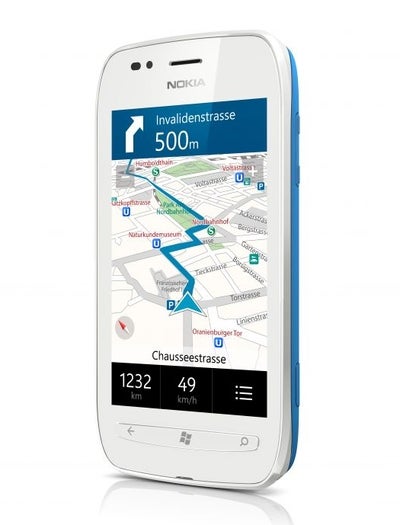 Nokia Maps might come pre-loaded on all Windows Phone 8 devices
Nokia Maps already comes pre-installed on Lumia smartphones adding free, voice-guided navigation that does not require an internet connection. With Windows Phone 8, however, Nokia Maps will supposedly be present on any handset running Microsoft's platform, regardless of its make. Still, that is but a rumor, so don't get your hopes up high before we hear an official word on the matter.
Windows Phone 7.5 might be a pretty cool platform as a whole, but it lacks accessibility features, as the One Voice organization pointed out not long ago. For those not familiar, One Voice specializes in accessibility in the IT industry. It was noted, however, that Windows Phone 8 is making progress in that field. There are no details as to what accessibility features will be added, but we will have more details on that sooner than later.
Interface tweaks and other features
In general, we expect seeing the all-familiar Metro interface gracing Windows Phone 8. After all, why change a design that is already highly acclaimed? Still, it is rumored that more than a few enhancements will be added, among which a universal search bar, possibly similar to the ones we have in iOS and Android. The camera UI is said to be getting redesigned as well, although it probably will be about as minimalist as the current one. Additionally, the live tiles might be tweaked with the ability to display more information than they do now. Last but not least, rumor has it that apps made for Windows Phone 8 will be compatible with Windows 8, although you might want to take that with a pinch of salt for now.
Compatibility with current Windows Phone smartphones
Some sources claim that no current Windows Phone handsets will get updated to Windows Phone 8, while others suggest the opposite. In all honesty, we don't really know which rumor should be trusted more, but we hope that WP8 will land on at lest some recent smartphones, such as the
Nokia Lumia 900
,
HTC Titan II
, and
Samsung Focus S
. Or perhaps the truth lies somewhere in the middle? According to a recent rumor, select Windows Phone handsets will be treated to an update that will add several WP8 features on top of Windows Phone 7.5, and Windows Phone 8 will be reserved for future handsets. But that is all speculation, so it is better to sit tight and wait until Microsoft itself gives us the details.
What we want to see in Windows Phone 8
Isn't it annoying that every time you want to transfer a file onto your Windows Phone device, you have to use the Bing application? For moving albums that is fine, but for a single song, that is overkill. Perhaps it is time for Microsoft to finally add mass storage device mode to its platform. Something that we also think should be improved is the way apps are organized. The more your app list grows, the harder it is to find the app you need. Would it be too much to ask for an app grouping feature? Independent volume controls for multimedia, incoming calls, and alarms, will also be nice to have. Last but not least, the camera interface is okay the way it is, but burst and panorama modes will really come in handy on certain occasions.
And that concludes our list of features that we expect seeing in Windows Phone 8. Is there anything that you wish to add? Feel free to do so by dropping a comment below. Also, don't forget that we will be reporting all you need to know about the event today, so stay tuned for our coverage!