MetroPCS customers to get T-Mobile devices; T-Mobile now trades on the NYSE
13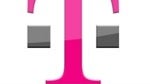 With
the closing of T-Mobile's acquisition of MetroPCS
, the latter's shares no longer trade on the New York Stock Exchange and have been replaced by shares of
T-Mobile
. The nation's fourth largest carrier had been 100% owned by German telco Deutsche Telekom, but as part of the deal, 26% of T-Mobile plus $4.06 a share, was exchanged for all of the stock of MetroPCS.
T-Mobile CEO John Legere and crew helped ring the opening bell at the Big Board on Wednesday. If you're interested, the symbol for T-Mobile is TMUS. The shares closed its first day of trading at $16.52. In what has to be good news for stockholders, Legere says that T-Mobile's Apple iPhone sales are
ahead of expectations
and added that the company should go from losing customers to gaining them at some point this year, and will add customers all throughout 2014.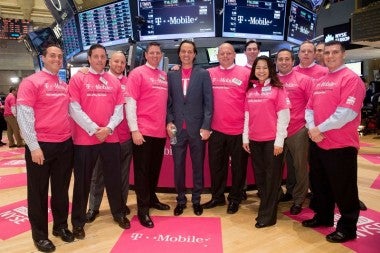 T-Mobile CEO John Legere andcrew on the NYSE floor
Meanwhile, Legere wanted to make sure that it was understood that T-Mobile and MetroPCS are one integrated company with two brands. It makes sense. Consider General Motors, which is one company with different brands like Chevrolet and Cadillac for example. As for whether MetroPCS ends up with the Apple iPhone to sell, the CEO says it depends on how both brands are positioned and marketed. He is not saying "No" but says an iPhone for MetroPCS is
not imminent
. The executive says that this is a decision that Apple also needs to be a part of, and that it already has started a dialogue with the Cupertino based tech giant.
T-Mobile is planning on introducing handsets with the MetroPCS name that run on T-Mobile's network. This allows the T-Mobile network to expand to new cities. Legere says he has a a double-digit list of cities he wants to move into, although it is not clear when T-Mobile will start introducing new service areas. "
We're deciding those cities this week. We're going to move fast and big
," says the CEO. The goal, says T-Mobile CMO Mike Sievert, is to transition MetroPCS customers to T-Mobile's network and then shut MetroPCS down. Sievert says that this process could take about
two years
.
In the meantime, MetroPCS will continue to offer unlimited pre-paid plans in the range of $40 to $60, while T-Mobile prices its service between $50 and $70. The $10 difference represents the difference in the network quality between the two pipelines. The CMO did say that somewhere down the road, there will be a shake up in pricing.
source:
AllThingsD
via
CNET
,
CNBC