Marshmallow on the Galaxy S6: here's how TouchWiz looks after the update
28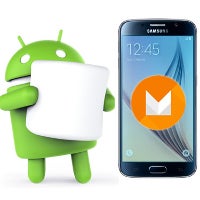 About a month ago, Samsung started
rolling out
the Android 6 Marshmallow update for
Galaxy S6
and
Galaxy S6 edge
units in South Korea. While no official word was given on international roll-out, we are pleased to say that our in-office Galaxy S6 unit has just received the update a few hours ago. So, we would expect that the rest of the world should follow within the next week or two.
In the mean time, we went on a screenshot frenzy to document everything that has been changed from the old, Lollipop-based interface, to the new one. There are a couple of major updates within stock Samsung apps, and a lot of small cosmetic touch-ups, but nothing too insane.
Always On Display
" feature of the
Galaxy S7
, and did not get the
Game Launcher
app for enhanced gaming experience. Its briefing panel is still the Flipboard one, while on the S7 it's a new"upday" panel. All else is pretty much the same across both smartphones.
Galaxy S6 owners may notice that Samsung's Messages app has received a pretty convenient new feature. When sharing photos, video, or any other media, you will no longer be switched out of the app. Instead, a small window will open in place of your virtual keyboard and it will act as a gallery or viewfinder – much like Facebook's Messenger. Additionally, shared video clips will now be playable directly inside the Messages app.
The Pro Mode of the camera has also finally been updated to feature Shutter Speed controls as well as a White Balance slider. These two were absent in the Galaxy S6 prior to the Android 6 Marshmallow update, which made the Pro Mode feel much less... pro.
Other updates feature a plethora of under-the-hood improvements for the stock Internet browser, as well as a slight update to visuals, mostly flattening the look of the interface further. Check out the comparison gallery below for more details.