Mark Zuckerberg thinks virtual reality needs at least 10 years to take off like smartphones
14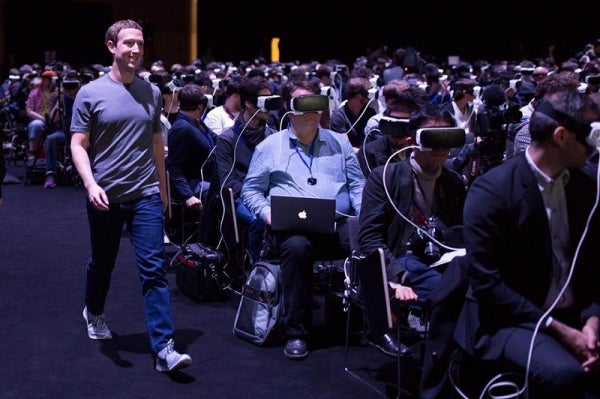 Virtual reality made a significant breakthrough at this year's MWC. Surely you must remember how Samsung orchestrated Facebook chief Mark Zuckerberg's appearance at
the Galaxy S7 & S7 edge announcement
. Zuck blew the Gear VR-donning audience's minds when he appeared in the flesh after presenting himself in a VR short, projected in the Gear headsets as he walked towards the stage.
A week later, the man sat down for an interview with Axel Springer CEO Mathias Döpfner for the German newspaper "Die Welt am Sonntag" in Berlin. VR entertainment is about to gain more awareness among consumers, especially as the high-profile HTC Vive and Oculus Rift headsets are about to launch this year, and Golden Sachs analysts predict that VR will be an 80 billion dollar business.
Virtual Reality is going to be an important technology.
Being the CEO whose company bought Oculus for $2 billion, Zuckerberg naturally gave an interesting and informed perspective on VR's future development for the newspaper.
"We are betting that Virtual Reality is going to be an important technology. I am pretty confident about this."
- he said, adding that there have already been one million hours of 360-degree video consumed with the Samsung Gear VR, which is developed in partnership with Facebook-owned Oculus.
Confident as he is in VR, the social network boss thinks it will take at least ten years before the technology reaches the mass market like smartphones have.
"It took 10 years to go from building the initial smartphone to reaching the mass market. BlackBerry came out in 2003 and it didn't get to about a billion units until 2013."
- explained Zuckerberg, adding that he
"can't imagine it would be much faster for VR."
The CEO also admitted that the Samsung Gear VR, which uses Facebook-owned technology,
"will probably ship many more units than the Oculus Rift."
Still, Zuckerberg acknowledged that this will help establish VR globally, and he's not worried of interest conflicts, because the headsets are of
"different price points and quality."
The Gear VR
is already on sale for $100, compatible only with select flagship handsets by Samsung. The PC-based Oculus Rift is up for pre-order at $600 and will ship later this year.
He also offered a glimpse at the future path for VR content.
"A lot of it is going to be videos, getting richer and richer. In the future, I think you are going to want to capture a whole scene, a room, to be able to transport to that. To be able to stream what you are doing live and have people be able to interact in that space."
Also, Zuckerberg
"absolutely"
thinks that VR will be the most frequent type of chat conversation one day.
source:
Business Insider