Watch Facebook CEO Mark Zuckerberg's MWC keynote livestream here
9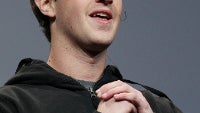 Facebook's chief executive officer Mark Zuckerberg is about to appear with a keynote at Mobile World Congress 2014, speaking about Facebook, the WhatsApp acquisition and the proliferation of the web.
Facebook, the world's largest social network, has just recently
acquired instant messaging client WhatsApp for a mind-boggling $19.5 billion
, and it's been the hot topic in tech in the past few days.
Tech journalist David Kirkpatrick will chair the event, guiding the conversion through issues such as
"the importance of extending the benefits of ubiquitous Internet access to the unconnected world,"
according to GSMA.
Zuckerberg should appear in his signature hoodie in front of a crowd of journalists in suits, and that alone would be fun to watch, but of course there is much more to learn about.
Facebook keynote starts at 09am PST | 12pm EST | 6:00pm CET
Recommended Stories