Samsung Gear VR hands-on: we dive into virtual reality
31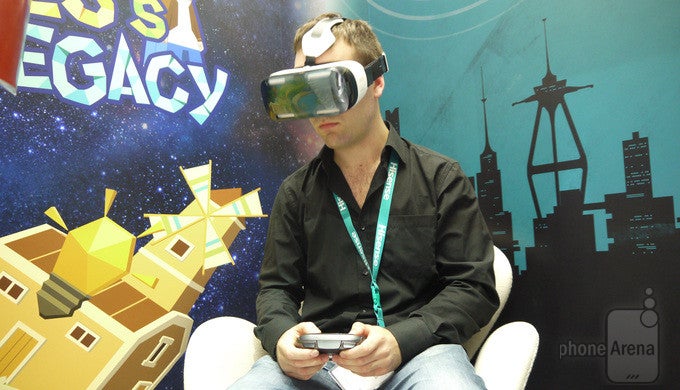 Once upon a time there was the Nintendo Virtual Boy – an ambitious video game console that came with the promise to immerse the player in a virtual reality experience. Sadly, it flopped so bad that it is regarded as one of the worst failures in the history of consumer technology. Now, almost 20 years later, Samsung is launching a very similar contraption – a contraption that does virtual reality the right way, or so it seems. It is called the
Samsung Gear
VR, and here at IFA 2014 we had the chance to give it a try.
The design
Galaxy Note 4
– when docked, the phone acts as the screen and brains of the Gear VR. So what does the latter do? Well, the Gear VR has a set of lenses – one for each of the user's eye – which allow one to focus their sight on the image. It also takes care of detecting the
motion
of the user's head and hosts navigation controls on the side.
As far as comfort goes, the Samsung Gear VR is a light gadget, but probably not as light as we wish it was. Games and media will do a great job at drawing your attention, but at the same time, chances are you won't be able to ignore the fact that you have the gizmo strapped to your face. Speaking of the straps, they can be adjusted depending on the wearer's preferences. Soft, foamy material acts as a border between your face and the unit. Focusing, which we found to be a bit fiddly, is adjusted with a single wheel situated on the top of the Gear VR. It would have been nicer, however, if the two lenses could be adjusted independently for each eye.
The experience
"Wow!" – this is the reaction that often follows right after one puts the Samsung Gear VR on. Without a doubt, having the ability to look around by tilting your head, as if you're really in the environment being projected, is an exciting experience. Also, we like how the video being projected fill your eyes' field of view really well, without leaving giant black borders around the sides. As for the demos, we had the chance to play a dungeon crawler video game, which we controlled with Samsung's own smartphone gamepad, but Samsung also had booths where videos were being projected on Gear VR units.
Overall, our initial experience was a fun one, but we can't say that we're sold on Samsung's interpretation of virtual reality headsets at this time. There are still some factors that seem to be holding the device back, such as its size, its weight, and the fact that it only works with the Galaxy Note 4, at least for now. Plus, it is hard to say what the quality of the Gear VR content is going to be like. Sub-par videos and games can quickly lead to the demise of what's already shaping up as a niche gadget. Nevertheless, we hope to give it a more in-depth look in the near future.