Mark Cuban says the Nokia Lumia "crushes" the Apple iPhone 5
69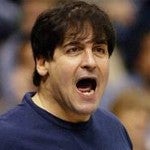 Mark Cuban is probably the most outspoken and well-known team owner in sports. As the owner of the Dallas Mavericks, Cuban has been a maverick himself, making billions when Yahoo paid
$5.7 billion
for Broadcast.com. He also is one of the sharks that invest in ground floor opportunities on ABC-TV's ratings success
Shark Tank
and has also appeared on television plugging Skechers.
Samsung
model. As far as the second handset is concerned, Cuban said, "
The new Nokia with windows replaced my iphone 5. It crushes the iPhone 5. Not even close
." He also lets us know that the Samsung is on T-Mobile's 4G network and that he loves the Wi-Fi calling option. Even a man set for life likes to save money. He adds that he loves the "
open Android and Samsung platforms
" and uses a replacement keyboard to increase his typing speed.
While the self-made billionaire didn't exactly specify which Samsung or Nokia models he owns, we'd expect him to carry the
Samsung Galaxy Note II
in case one of the Mavs or even an opposing player like LeBron James needs to borrow the phone. And we can imagine him owning the
Nokia Lumia 920
.
Ah, the life of a billionaire. Able to buy the latest handsets off contract as soon as they are launched. Yet, we have to applaud Mark Cuban's willpower. After all, most of our readers would own much more than two handsets if they had billions. Perhaps he is too concerned with the mediocre play of his basketball team which has a
12-16 record
, 2 1/2 games behind the resurgent Minnesota Timberwolves for a playoff spot in the NBA's Western Conference.
source:
Reddit
via
The NokiaBlog