Marissa Mayer pushing for Yahoo to replace Google as the default search engine on iOS
35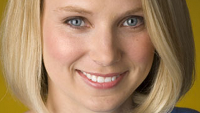 Yahoo wants some action from Apple. With Google currently the default search engine on iOS, Yahoo CEO Marissa Mayer has been working on a way to approach Apple to ask if Yahoo can take over as the default search engine on the Safari browser for the Apple iPhone and Apple iPad. According to those familiar with Mayer's thinking, she already has developed a look for the search engine and wants to show Apple's executives exactly what she has in mind.
Mayer has already approached several Apple executives about her plan, and has already spoken to Apple's SVP of design, Jony Ive, about it. As it turns out, Yahoo's CEO already knows Ive from her days at Google, which gives her a very big ally in Cupertino. Still, getting Apple to replace Google will not be easy. Part of the problem facing Mayer is that Google pays Apple $1 billion a year to drive traffic to its ad networks. But Yahoo will soon be loaded with cash once Alibaba has its IPO later this year, allowing Yahoo to cash in on its 24% ownership of the company.
Yahoo already powers the iPhone's weather and stocks app, so getting an audience with the entire crew at Cupertino who make the big decisions is certainly possible. But even with this access, it doesn't seem that Apple is inclined to remove Google. Software and services executive EddyCue has said that Google would remain the default search engine for iOS unless a comparable alternative is available.
Talk about Yahoo taking over for Google on iOS isn't new. Last year, there was even a report that CEO Mayer had met with Cue to
discuss ways that Yahoo could work more with Apple
. Still, the whole thing seems to come back to search. Apple and Google's contract covering search supposedly expires next year, and we would imagine that Apple has an option to renew the deal with terms beneficial to both sides.
source:
Recode
via
AppleInsider