WSJ: Apple talking to Yahoo about the latter's deeper integration in iOS
11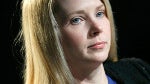 Here is an interesting set of bedfellows. Apple apparently sat down at the same table with Yahoo so that both tech giants could discuss finding a way that Yahoo could be more
deeply integrated
into iOS.
The Wall Street Journal
is reporting late Tuesday that Yahoo CEO Marissa Mayer has met with Eddie Cue, Apple's Senior VP of Internet services, about a way for Apple to use more Yahoo data and information. Apple already uses the Sunnyvale based firm for its weather application, while Yahoo Financial provides Apple with stock market quotes for its stocks app. And Yahoo sports is plugged into Siri so that iOS users with the personal assistant can get live scores and sports news.
While some of the talks dealt with having Yahoo provide more information to Siri, Yahoo also is angling to get the high profile job as
official search engine
for iOS. That might be considerably tougher to accomplish considering that Apple already has a ten year deal with Microsoft's Bing for the search engine job.
Despite the talks, there is the possibility that no deal emerges between Apple and Yahoo. One source told
Bloomberg
that Apple routinely meets with other companies to discuss how its products can be incorporated into iOS. Meanwhile, Yahoo is desperately seeking a way to turn around a spark growth in the number of people that visit its sites.
source:
WSJ
via
Bloomberg