March 4th launch for HTC Thunderbolt tweets a Best Buy store
25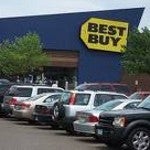 A Best Buy store in Roseville, California used its Twitter account to tell the world that the HTC Thunderbolt has been delayed again with a potential launch now set for March 4th. This information dovetails with an anonymous tip we received earlier on Thursday that Verizon Managers had been told that the HTC Thunderbolt is having issues with the battery and the radio that are hurting the phone. The device could have been launched this month with an OTA upgrade sent out later to fix the bugs, but instead the decision was made to launch the phone in early March.
So we have two separate sources telling us early March, with one giving us the 4th as a specific date. Will this finally be the last time that this moving target moves? How many more delays will it take for those ready to buy Verizon's first 4G handset decide to switch to something else, like the Motorola ATRIX 4G?
**UPDATE**

It would seem that whomever sent the tweet for Best Buy store #129 needs a calendar as March 4th is actually a Friday. Of course, with this not being a leap-year, perhaps there was a bit of confusion. Either way, it looks like early March will see the release of the long awaited HTC Thunderbolt.
Late tonight, a leaked picture of Best Buy internal communications was released showing a launch date of March 10th for the HTC Thunderbolt. This would make a great office pool, trying to guess the precise release date. So far, we have March 4th and the 10th as two potential days. Hopefully, Verizon will let us know soon what the launch date will be.
source:
AndroidCentral
Thanks, Anonymous Tipster!
source:
AndroidPolice
via
Engadget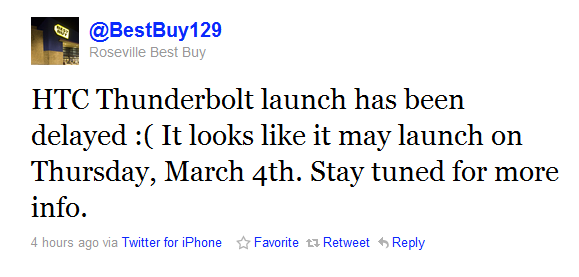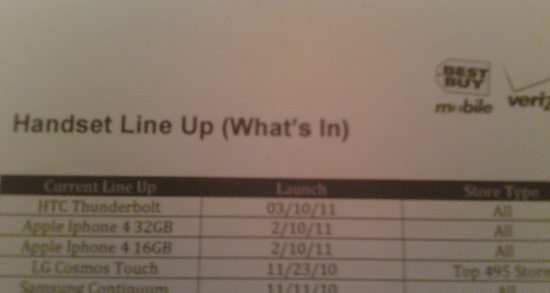 This Best Buy document shows March 10th as the launch date for the HTC Thunderbolt