Maestro C 10" tablet offers 10 hours run with Windows 7, and 16 on Android, has a cool kickstand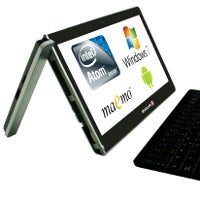 We learned about the
Maestro tablet line
of the indie Australian company Evolve III at CES in January, when they briefly demoed their next generation tablet, which ran all three Windows 7 Home Premium, Android and MeeGo. The previous tablet in that lineup was powered by Intel's Pinetrail chipset, which is known for providing very short battery life, 2-4 hours at best, when running Windows.
With the Oak Trail platform that
Intel announced last week
, the company plans to get back in the mobile game, since it is done with a 45nm manufacturing process, meaning less heat, and more hours of work. Intel is also working with Google to
run Honeycomb
on the Arom chipset family. It's precisely that
1.5GHz Atom Z670
platform that is in Evolve III's new
Maestro C
tablet, and the manufacturer's specs claim
10+ hours
of battery life, while running Windows 7 Home Premium, and the astounding
16+ hours
in Android mode. The company has been working closely with
Microsoft
on the Windows 7 interface, which will have a
touch-friendly overlay
for the most used functions.
We can already see ourselves surfing with the Android browser, and switching over to Windows 7 for the inevitable scenario when you just need Windows. The 10" tablet is not spec-shy either - 1024x600 pixels is not great, but Maestro C sports 32GB of internal memory, 2GB of DDR2 RAM, HDMI port, and two USB 2.0 ports - oh, the joy of USB support. The slate is actually a nice example of about 50 devices which Intel promised to run Oak Trail by year-end.
Moreover, the slate comes with an intriguing swivel that covers the ports, and can turn into a
kickstand
for the tablet, plus Evolve III has made a
magnetic cover
for it, that doubles as a built-in keyboard, sold separately. Maestro C weighs alright for a 10" Win7 tablet, at 1.74 pounds (790 grams), but the thickness with the keyboard snapped on is the significant 1.02" (24 mm).
It can be had as Wi-Fi only, or the more expensive 4G version, which adds a 21Mbps HSPA+ baseband chip, as well as GPS connectivity. The website of the manufacturer says the Maestro C will start from $880, which is quite steep, but, hey, you've got stereo speakers to soothe the retail pain with gentle music. Moreover, at CES the reps mentioned it should cost about $100 more than the Pinetrail tablet, which at the time was running for $500, so we might see the Maestro C for the more palatable $600 in the US, but knowing Win7 license costs money we don't keep our hopes too high. Here's a video demo below, disregard the S in the title, they are actually showing the Maestro C.
source:
EvolveIII
via
Netbooknews