Lumia 920 optical stabilization demo remade, now with no fake footage
28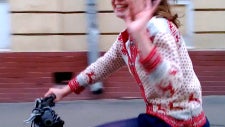 Remember the
Nokia Lumia 920 stabilization video demo
? Yep, that very same one that was not actually shot on the Lumia 920, but instead on a professional video camera. You might remember it for the gorgeous blond girl riding her bike somewhere in suburban Finland, and now some enthusiasts in Russia have decided to remake the demonstration and shoot it with a real Nokia Lumia 920 this time.
The blond girl riding the bike is now replaced by another bike rider - a cute brunette in a more urban environment. But that - presumably - is not what matters most.
What matters most is the quality of the footage. And good news is there is little that's changed there. The optical stabilization works perfectly well in the video, and you'd find it hard to find a huge difference when you compare it to the original. Kudos, Nokia, for achieving this on a smartphone camera.
And then, with all this, we keep on wondering, who made that terrible decision to simulate the original demo, anyway? To set the record straight, there is even the making of the video posted right after the demo.
source:
Revaz Rezo