What's this big dark blurry device in the Nokia Lumia 920 PureView camera sample?
32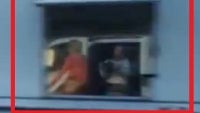 Nokia has just unveiled its Lumia 920 with what it's calling PureView Phase II, a reimagined PureView sensor that's using a slightly different magic than what we've already seen in the Nokia 808 PureView.
Earlier, Nokia teased us with a mysterious video showing a pretty girl carelessly and cheerfully riding a bicycle and smiling at a cameraman. Now, then, we guessed this was the first video sample of the Lumia 920 with its PureView camera and turns out that we were right on the money.
Nokia has now shown footage of the same scene captured with the great optical image stabilization on the Lumia 920 and its PureView Phase II camera (we definitely want to stress the difference between this and the 808 PureView), and a competitor smartphone without the image stabilization.
Now, interestingly, upon closer inspection for a fraction of the second you could see a passing reflection in the van right behind the girl. In that reflection, you can see what looks like the cameraman holding a big black object. Now, all logic says that the reflection should be of a man holding a Nokia Lumia 920. Yet the blurry image raises some questions - that big dark object might seem a bit too big to be the handset. We are not saying it's not, but we definitely have some doubts.
What do you think? Is this enough reason to suspect some cheating with the video making on Nokia's part? We've reached out to Nokia and Damian Dinning for a comment and will update you when and if we get a response.
Thanks to our commenters

tech-head

for the good catch and

aokde

for the screen grab.