Lumia 920 camera beats iPhone 5 and Galaxy S III in low-light... in a Microsoft ad
99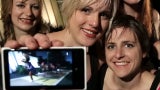 In what seems to be one of the most absurd ads we've seen in a while, the
Nokia Lumia 920
has managed to beat the
iPhone 5
and
Galaxy S III
in term of low-light photography. The ad basically shows a photographer taking a picture of a weird scene involving a man wearing a pig mask and a women's team of roller derby girls acting as if trying to catch him. Well, let's just say that it's art and we shouldn't necessarily expect to find any solid logic in there.
At the end of the ad, we see the shots from all three phones being compared, making it look as if the Lumia 920 is way, way better that its competition. Of course, it's safe to say that the shots presented by the ad are completely fake, since they simply make the image from the Lumia 920 seem perfect, and we all know that Lumia 920 images are far from perfect.
Go ahead, watch the ad and share with us what you guys think! Is the Lumia 920 really
that
good?
via:
Neowin