Lost AirPods are becoming a problem in New York City
19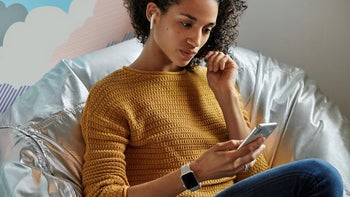 No, we don't believe that Apple made the wireless Bluetooth
AirPods
slippery on purpose so that they could slip out of your ears, forcing you to buy a new pair. But the truth of the matter is that they are easy to lose and misplace. Despite their propensity to disengage from your ear, the AirPods are one of Apple's most popular products and helped the wearables segment deliver a 48% year over year improvement in revenue during the fiscal third quarter. The
Apple Watch
was also instrumental in this unit's strong showing from April through June, although the smartwatch doesn't often fall out of a wearer's ear.
If you do happen to lose an AirPod or two, the Find My iPhone app can help you locate them; whether you can rescue them is another story.
The Wall Street Journal today published
the story of Terri Gerstein, who lost one of her AirPods. She found that it had fallen through a sidewalk grate in Brooklyn forcing her to create a homemade tool fashioned out of a broomstick and duct tape to save the device. But having to go full MacGuyver in order to have both AirPods back didn't make Terri feel better. Instead, she said, "I felt like I don't deserve them. I'm not careful enough. I don't deserve something so nice." Gerstein works at Harvard Law School where she directs a workplace-law program.
New York's MTA considers filming a PSA to warn AirPods wearers not to put them on or take them off when entering or exiting a train

Gerstein isn't the only AirPods owner who had to go fishing for the device from a sidewalk grate. Anna Madison also had to create a tool made up of dental floss and a magnetic Juul electronic cigarette charger. She was motivated to save her AirPod once she discovered that Apple charges $69 to replace a single one, and her self created magnetic stick worked like a charm.
As many as 25 New York City Metropolitan Transportation Authority workers go through the city's subway tracks every day looking for lost items; once AirPods became a common holiday gift, they started to find the device in lieu of other items like dentures and pacifiers. And the number of AirPods they picked up from the tracks grew again in size after Apple released a refreshed version of them this past March. MTA maintenance supervisor Steven Dluginski notes that while they are small, tiny and hard to find, they do show up on the dark areas near the subway tracks. "The only saving grace is that they're white," he says. On a recent workday, Dluginski's crew had requests from passengers to find 18 lost items with AirPods making up 6 or one-third of them. Being professionals, the MTA doesn't need to resort to homemade equipment to save lost AirPods from getting shocked by the third rail. Dluginski's team relies on a pole that can extend to as long as 8-feet long with two rubber cups at the end; when squeezed together using the pole, the AirPods can be caught pincer-like by the rubber cups and saved.
If you lose your AirPods while riding the NYC subway system, your best bet is to speak to MTA personnel. As the WSJ notes in its report, those looking to start their own rescue operation can cause delays or even hurt themselves seriously. The MTA is said to be considering the production of a public service announcement that would urge commuters not to put on or take off AirPods while entering or exiting a train.
You might recall that just last month we told you the story of Ashley Mayer,
who had dropped one of her AirPods on a subway track in New York City
. As badly as she wanted to save the earbud, Mayer said that she was "not lunging after it and becoming the first-ever AirPod-related subway death." When she returned the next day, her AirPod was in the same exact spot. Changing her mind, she decided to try and rescue the earbud opting for the ol' broomstick and duct tape rescue. Once she had the device back in her possession, she sanitized the dirty AirPod and started wearing the whole set once again.
If you're a longtime PhoneArena reader, the name of Loup Ventures analyst Gene Munster might be familiar to you. Munster estimates that 50 million AirPods will be sold this year, up 78.6% from the 28 million Apple sold in 2018. Munster says that one key driver of sales is that they are so easy to lose. Munster should know; the analyst estimates that he has lost 10 pair of the wireless Bluetooth
earbuds
since they were first released in December 2016.