Liveblog: LG's G4 announcement
16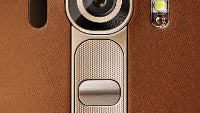 Yet another major player is set to join the ranks of flagship smartphones today, and it's none other than the LG G4! The newest edition of the phone with rear buttons is to be unveiled today at simultaneous events held around the world. We're going to report live from NYC, so be sure to check our homepage regularly for updates!
So, welcome to our liveblog, where we'll be keeping you informed as the announcement event progresses. If you are the video streaming type, maybe you'd prefer heading over to
our livestream post
, but if you're in for a more relaxed experience, we guess the text and image-based liveblog below will be the preferred medium.
Before we get started, however, there's still some time to refresh our memories about what LG's latest and greatest is shaping up to be. If you could use a refresh, we have
just what you need right here
.
Without further ado, have fun following the event!
EVENT START TIME: 8AM PT | 9 AM MT | 10 AM CT | 11 AM ET | 3 PM GMT | 5 PM CET