Little things you can do to increase the battery life on your EVO 4G and Droid Incredible
This article contains unofficial information.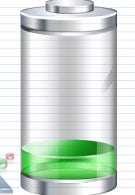 With today's smartphones able to do so many things from making/taking phone calls, to watching streaming videos, listening to music, sending/receiving text messages, and downloading tons of apps, addressing the issue of battery life is very important. Two f the hottest new Android phones, the HTC EVO 4G and the HTC Droid Incredible, have amazing specifications. Both have a zippy 1GHz Snapdragon processor under the hood, the latter has a 3.7 inch AMOLED display to keep bright while the former has a massive 4.3 inch TFT screen that must stay visible. Many owners of the two devices have been complaining that they have had to recharge in the middle of the day to make sure that their handset has enough juice for the night time. So what can the owner of either phone do to keep enough juice in the battery to keep the unit going strong throughout the day? Right off the bat, you will notice that extending the battery life on your Android device means giving up some of the things that make using the phone fun and you will have to make the decision-do you want a fun phone with a dead battery, or do you want a phone a little more staid, but with power to work.
One of the things you can do is to eliminate the HTC widgets like Friendstream and bookmarks. At the same time, turning off widget animation can save power. Instead of using those cool, living wallpapers on your phone, switch to a plain picture from your gallery. One of the biggest hogs of power on Android phones is the display. Turning off the automatic brightness and setting it at 10% should save you a ton of battery life. In the same vein, it is suggested that the screen timeout be set at 15 seconds. If you don't need Wi-Fi, 4G or GPS while you are just walking around with the phone, turning those functions off when you aren't using them will save plenty of juice for the power cell. If you download apps, installing Advanced Task Killer is a must. Leaving apps on in the background after you are done with them is also a major power drainer on Android phones. ATK is necessary to turn off certain apps like the camera. Keep your Android a lean mean machine by cutting the bloat and killing off your apps often. Trying as many of these ideas as possible could be the difference between having enough power to enjoy your phone when you're out and about during the evening, or having a nice looking paperweight in your pants pocket all night.
HTC Droid Incredible Specifications
|
Review
HTC EVO 4G Specifications
|
Review
source:
MobileCrunch