Future Android 9 update to return list of apps with blocked notifications
1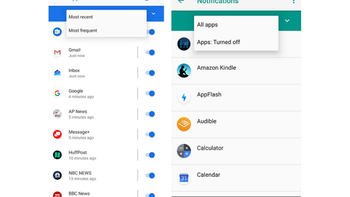 Today, we have something similar to report. When Google released Android 9, it removed the ability of Android users to see a list of the apps that they have decided not to receive any notifications from (see images on top of this article; Android 9 is at left). For example, if an Android user is tired of continually reading notifications about things that he has no interest in, why shouldn't he save his swipe finger from blistering by banning these notifications from his phone.
Similar to yesterday's story about the Android 9 volume controls, complaints were lodged on the Google Issue Tracker page. Today, Google listed the issue as being fixed; the ability to see the list of apps with blocked notifications will return in a future update to Android 9 Pie.
On Android 8, you can find the list in Settings under Apps & notifications. In Android 9, it is listed in the Digital Wellbeing beta app under Manage notifications.