Future update will allow Android 9 users to quietly raise a phone's ringtone volume
6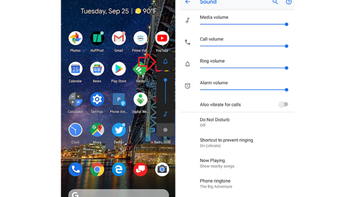 A change made to the OS in Android 9 Pie, while not widely known, makes raising the ringtone volume a noisy affair. Previously, the default setting for the volume controls on an Android phone was the ringtone unless you were playing media on the device. With Android 9, the rocker on the side of a handset changes the media volume by default. And even though pressing the volume rocker and tapping on the bell icon will rotate between vibrate, silent and ringer (see arrow on the image at the top of the article), you cannot actually change the ringtone volume without going into your phone's settings. And as William S. once wrote, "there's the rub."
Going into the settings and adjusting the slider controls for a louder ringtone volume will automatically play the ringtone. If you're in a public library, or at 18th hole of a golf tournament, or inside the OR during a delicate surgery, the last thing you want when surrounded by silence, is for your ringtone to go off.
An Android user complained about this on the Google Issue Tracker, and there were several who made similar posts on the page. The good news is contained in the final post dated September 24th from a Google employee. The post notes that the issue has been fixed and it will become available in a future Android release."
So apparently, Google will eventually release a way to raise the ringtone volume on Android 9 without the embarrassment of having it play. For the few who are currently using a phone running the latest Android build, especially those who are shy, this is good news.

Google says that a future Android update will allow Android 9 users to raise their ringtone quietly