Absolute Technology's LINKASE for iPhone 5 hands-on
2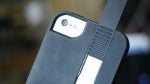 Nowadays, iPhone owners are blessed to know that they're finally enjoying speedy 4G LTE connectivity, since the iPhone 5 is the first in the popular line to feature it. As much as they love to relish in it, some are still making
Wi-Fi connectivity
as their primary source of data connectivity – even more when they might be limited by their data plans. Well, if you're seeing weaker than normal Wi-Fi connectivity from the iPhone 5, just know that there's a specialty case that improves the connection
by as much as 50 percent
.
At first glance, Taiwan based
Absolute Technology's LINKASE for the iPhone 5
might seem like your ordinary form fitting case, but there's more to it than just that. To be more specific, it employs this new technology called
EMW (Electro Magnetic Waveguide)
that resonates with the iPhone 5's built-in Wi-Fi antenna, so that it provides enhanced signal strength. In order to see that boost, you simply have to pop up the EMW element in the rear of the case.
In our experience,
we do notice an improvement
testing out the iPhone 5 approximately 40 to 50 feet away from the connected hotspot. Without the EMW popped up, we would normally see between 1 to 2 bars of Wi-Fi strength on the iPhone 5, which of course, affects data speeds. However, with it enabled, the smartphone is able to pull in steadily 2 to 3 bars. Countless times already in many other case scenarios, we've seen an improvement, so we're validated by the claim.
As for the case itself, there's nothing too special about it, since it's a form fitting minimalist case that's doused in a
soft touch matte finish
. Yes, it does provides some grip, but at the cost of sometimes getting dirtied due to smudges. Additionally, we don't like how the iPhone 5's buttons, the power and volume control, become stiff to the touch. Regardless of that, it's nice that there's just a small level of protections with the LINKASE. For those wondering, you'll need to fork over roughly $50 to pick it up online, which might seem steep for any protective case, but if you're adamant about getting improved Wi-Fi connectivity, this is one of the solutions out there that'll get the job done.
source:
Absolute Technology