m: AL13 Ultra-thin Aluminum Bumper for iPhone 5 hands-on
10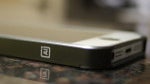 So how can you improve upon Apple's own bumper cases for the iPhone? Well, considering it's a flexible band that hugs the sides of the iPhone, there's only one route to go from there – and it seems as though the
AL13 designed by m
, Lester Mapp, might be on the right track.
Seeing that it's a bumper case, the AL13 is uniquely designed to not only protect the iPhone from bumps and bruises, but it also minimizes the amount of bulk it puts on. For starters, this is a serious bumper case, seeing that it's fashioned from
aerospace grade aluminum material
– thus, giving it that level of
sturdiness
that's already associated with Apple's pride and joy. In protecting the beloved thing, it actually raises the iPhone's surface, so that its front and back sides don't come into contact with surfaces when it's laid flat.
We'll be the first to admit that the AL13 sprinkles on that level of premium, but when it's only covering the bezel of the iPhone, it's not as profound if it were entirely covering the back. Still, the dark metallic finish perfectly complements the solid construction of the iPhone. However, it'll pain some people to know that this is priced at a whopping
$79.99
.
Without question, it's a pricey investment for something that outlines the iPhone only, but it does come included with a high impact, anti-scratch, anti-fingerprint, and anti-glare polyurethane
screen protector
. Now, the question that remains is whether or not the $80 cost is worth it. Strangely, it seems like most of that cost is probably put into the packaging of the AL13, which somehow receives just as much love too.
source:
Thinkbym