CM4 Q Card iPhone 5 Case hands-on
1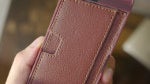 Alright, we've probably exhausted our desire for wallet cases for the
iPhone 5
, since we've checked out three different ones in the last couple of weeks. Each one are no doubt different in their own way (of course), but then we're thinking how they're going to mix things up? Lucky for us, there's one particular one that's no doubt going in a different direction with the form factor.
Instead of following the trend of late, the
CM4 Q Card Case for the iPhone 5
decides to stick to a
unified snap on case form factor
– as opposed to the two part compartments we've seen plenty of times by now. Indeed it's a bit more
compact and pocket friendly
, since it's like any sort of snap-on case out there, but the true worth is found in the pocket in the rear of the case that accommodates up to
3 cards and some cash
. At first glance, the pocket seems to be made out of leather, but it's actually some sort of other fabric. Regardless of that, the case adds enough protection around the edges, plus, the raise outer edges of the case enables it to protect the display when it's laid flat.
Beyond that, we appreciate that there's no flap to mess around with (unlike the other cases) when we're having phone calls. In fact, everything with the smartphone is easily accessible. At $39.99 for the CM4 Q Card Case, it does seem just a tiny bit up there, but considering that it doubles as a wallet too for easy consolidation during weekend outings, this will undoubtedly prove to be useful for some people.