Learn some amazing facts about cell phones with this new infographic
11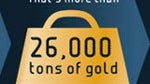 Boy, who would have thought that there are more phones in the world than visible stars in the sky?! And did you know that there are more phones in the U.S. than people... by a few million?
Well, that seems to be the reality, at least if we decide to trust this infographic (And it doesn't have any reasons to be lying to us now, does it?). Here's our favorite fact from the infographic that you can find below: the average phone is said to include about 3% gold. Now, if we combine that gold from all cell phones in the world, it will make for the whooping 26,000 tons of gold! Blimey, if we had that much gold, we would be writing articles about cell phones all day long! But if you are not really into gold, you can always sell it for about $1.1 trillion on the U.S. markets.
Also, it turns out that if take all phones in the world and stack them up, we'll be able to climb about 48,000 miles up! That will be enough to reach the International Space Station and go back down 120 times. It won't be enough, however, for us to reach the moon, as the distance to the Moon is about 238855 miles. So it's clear then, we need more phones!

Check out the infographic below for even more interesting facts about cell phones!
via:
IntoMobile