Leaked Xiaomi MIUI 6 images showcase a mature, yet approachable redesign
15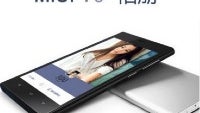 It's four days before Chinese mega-vendor Xiaomi announces the next version of its in-house Android distribution - MIUI 6 - and screenshots are already popping up online, showing glimpses of a thoroughly reworked interface.
Xiaomi (or Mi) is not one to go against the grain, thus MIUI 6 ditches the sunny, colorful graphics for more contemporary and, you guessed it,
flatter
look with translucency, bigger icons, and consistent colors.
It seems like a pleasant and tidy redesign that doesn't shy away from tasteful skeuomorphism in places such as the radio app, which boasts subtle LCD display and speaker graphics. The compass app also shows a real world compass drawn in a reduced manner. If Xiaomi manage to keep the look both friendly and mature, they deserve accolades.
Recently,
Xiaomi unveiled its 2014 flagship smartphone
, the Mi 4. It's one of the nicest mobile packages out there, boasting a 5-inch 1080p display, a Snapdragon 801 CPU with 3GB RAM, and a very attractive price of $320 for the 16GB model and $400 for the 64GB model. As the rapidly growing company is on a global conquest, its presence outside of China is expected to steadily expand.