Xiaomi Mi 4 officially unveiled: claims to be the fastest smartphone in the world
56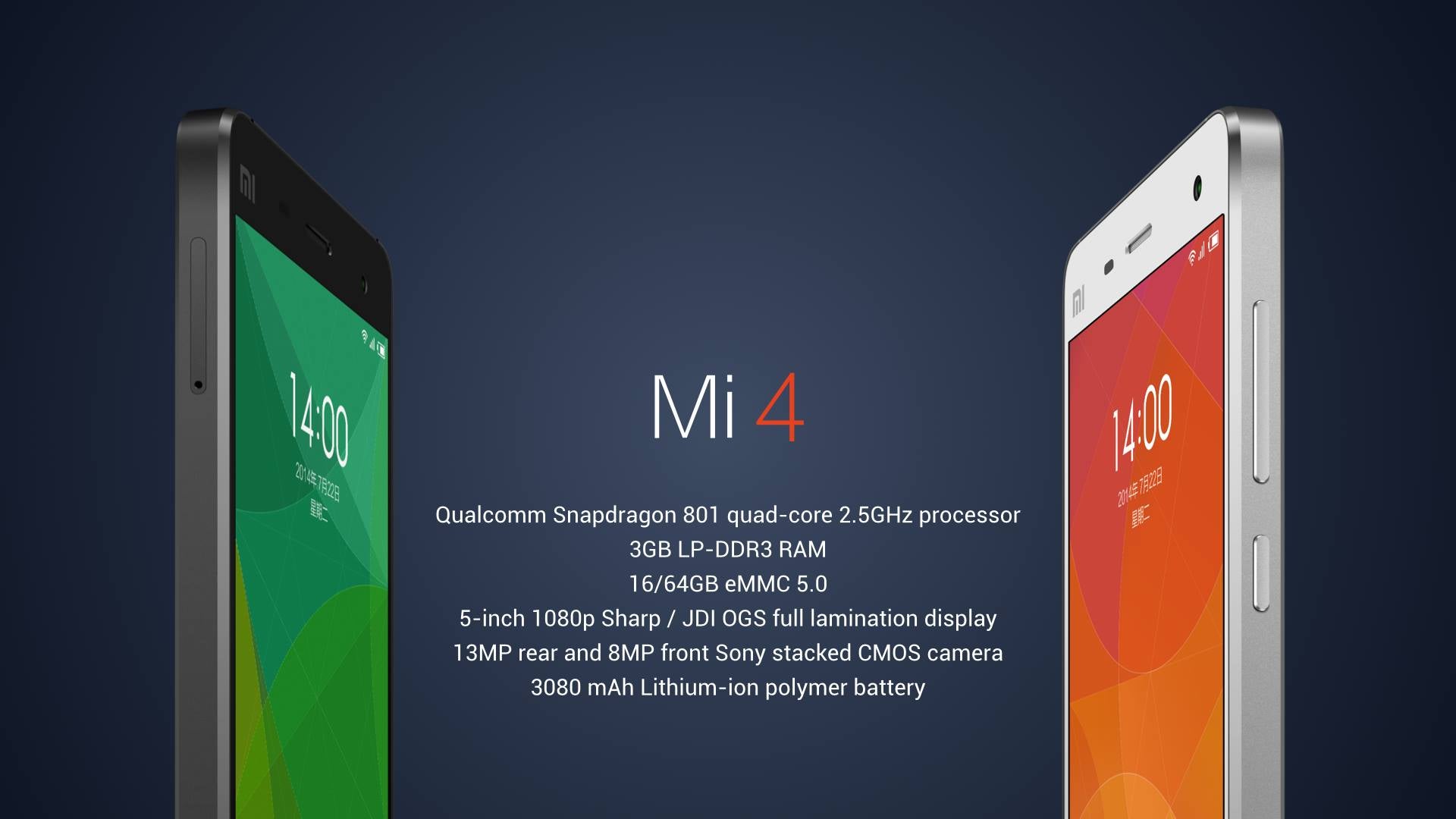 Xiaomi, the company often referred to as the Apple of China, has just unveiled its latest flagship, the Xiaomi Mi 4 at a massive event in Beijing. Chief executive Lei Jun was welcomed by an Apple-esque atmosphere and thunderous applause, as he took the cover off the new Xiaomi Mi 4, a device with a clear focus on design, with a premium metal frame and chamfered edges that seem to have taken a page from Apple's design book.
The Xiaomi Mi 4 comes with a 5-inch 1080p, fully laminated display and top notch hardware: it runs on the quad-core Qualcomm Snapdragon 801 system chip clocked at up to 2.5GHz, and comes with a plentiful 3GB of RAM. Just like last year with the Mi 3, Xiaomi claims that the Mi 4 is the fastest smartphone in the world at the moment, something that we're eager to check in the near future.
The battery is a sizable 3080mAh pack that can last around a day and a half according to Xiaomi, more than most other 5-inch flagship phones. The Mi 4 also supports quick charging at 9V/1.2A or 5V/2A, so you can juice it up to 60% in less than an hour.
Xiaomi claims the Mi 4 is the fastest phone in the world
In terms of cameras, the Mi 4 boasts a 13-megapixel rear f/1.8 shooter (with a Sony IMX214 sensor) capable of recording 4K video, and a high-res, 8-megapixel f/1.8 shooter with a 80-degree wide-angle lens that will allow for more people to fit in selfies. The Mi 4 comes in two versions: one with 16GB of internal storage, and another one that makes a jump directly to 64GB, skipping a 32GB model. The storage is also of the fastest eMMC 5.0 kind.
The special sauce of Xiaomi phones, though, is not merely specs, but rather it is their MIUI Android skin. MIUI is one of the richest skins out there, offering plentiful customization options and weekly updates. The next version of MIUI is also now coming in just about a month - it will arrive as MIUI 6.5 on August 16th.
Finally, the Xiaomi Mi 4 comes with a nice surprise: its full retail price is just $320 (1999 yuan) for the 16 gig model, and $400 (2499 yuan) for the 64GB version. Note that this is the price for China, where the phone will be sold officially. Xiaomi does not have an official distribution channel in the United States and Europe, so expect to see prices for unofficial imports of the Mi 4 higher there.
Xiaomi has made a name for itself for expanding rapidly in China, with smartphone sales reaching a whopping 26.1 million units in the first half of 2014. The company, however, is not just aiming at China - it's rapidly growing to the rest of the world, and the Mi 4 is an important step in that direction.