League of Legends is coming to Windows 10 courtesy of a Microsoft-Tencent collaboration
18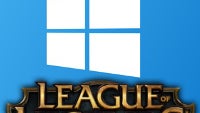 One of the most popular MOBAs (multiplayer online battle arena) at the moment, League of Legends (or LoL, as it's often abbreviated), will hit the Windows 10 store in the foreseeable future.
LoL will not be the only fairly-popular game that will hit the platform - CrossFire, a free-to-play online first-person shooter, as well as Dungeon & Fighter, a multiplayer beat 'em up title, will also land on the new Windows store.
These popular games will arrive for Redmond's OS thanks to a newly-announced collaboration between Microsoft and Tencent, a large Chinese investment holding firm, which is the publisher behind CrossFire and Dungeon & Fighter, as well as a major share-holder in Riot Games, LoL's developer.
It's hinted that LoL, by far the most popular game that is scheduled for release on
Windows 10
, might be an universal app, potentially reaching as many mobile gamers as it get with its addictive MOBA gameplay. As a refresher, Windows 10 is coming
later this summer in some 190 countries
. Bring it on, then!