Layar Vision does augmented reality magic without the need for visual tags
3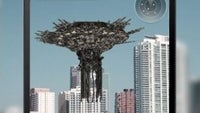 There was a time when augmented reality belonged only to the realm of science fiction with only the ranks of James Kirk and the T-800 granted with the privilege to use it. That time is gone, however, and even the average Joe can experience that technology with only the help of a contemporary smartphone.
The Layar augmented reality platform has been around for quite some time now and millions of iOS and Android users have already tried it out. What they have yet to experience, however, is
the new Layar Vision technology that will take AR to the next level
. The cool thing about Layar Vision is that it does not require any visual tags anymore in order to render the layers of virtual content. Instead, it can recognize real world objects and use them as cues in order to do its augmented reality magic.
Unfortunately, Layar Vision is available for software developers only and the final product is expected to be ready later this year. Until then, feel free to check out this promotional video showing off the technology in action, and if you find it to your liking, do not hesitate to drop a comment below.
source:
Layar
via
SlashGear