Latest software update for the NOOK Color officially brings Android 2.2 Froyo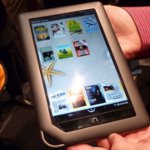 For the many people who decided on picking up the
Barnes & Noble NOOK Color
as opposed to the host of other dedicated Android tablets on the market, they're in for one special treat that supremely unlocks a bevy of features to this sometimes regarded ebook reading device first and Android tablet later.
Version 1.2.0
of the NOOK Color's software specifically brings along
Android 2.2 Froyo
to the masses – meaning, you won't have to go through some
alternative ways
to get it in line with some of its Android tablet brethren. Additionally, it features things like NOOK Apps, NOOK Email, an enhanced web experience, NOOK Kids Read and Play titles, enhanced NOOK Books, and much more. All in all, this software update is surely going to make this tablet even more favorable for people out there considering its low cost of ownership price tag.
As it stands right now, owners should start to see the notification pop up on their devices indicated its arrival, but for those who are simply impatient, you can always manually do it yourself by heading to the Barnes & Noble NOOK Color support page.
source:
Barnes & Noble
via
Engadget