Report says Samsung Galaxy F will sport dual 12MP cameras, 8GB of RAM and huge battery
13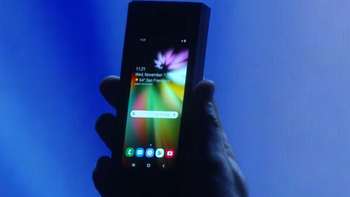 CIMB expects that the Samsung Galaxy F, possibly the first folding phone from a major manufacturer, will be sold at retail for $1,800. At that price, Samsung's gross profit margin will be 65%, similar to the gross margin Apple receives on the
iPhone XS Max
(according to CGS-CIMB), and 10 percentage points less than Sammy's gross margin on the
Galaxy S9+
. By 2022, the report says to expect the average foldable phone to cost $1,300 at retail.
The analysis also states that the Galaxy F will have two batteries with one in each part of the phone's housing. Combined, the pair will add up to 5000mAh to 6000mAh. A dual camera setup (12MP + 12MP) will be on back and there will be an 8MP front facing selfie snapper. This information has reportedly been verified by suppliers at the request of CGS-CIMB. The report adds that the Galaxy F will probably have an Exynos 9820 chipset under the hood, except in the U.S. and other markets where the Snapdragon 8150 Mobile Platform will be employed. The device is expected to carry 8GB of RAM and 128GB of internal storage, although other variants are possible.
Eventually, we could see foldable phones that start with a 7-inch screen that open up to a 12-inch display using three separate displays. Speaking of displays, the analysis says that Samsung should lead the way in foldable displays until 2020, with LG Display lagging behind. While Samsung will produce 1 million foldable OLDED displays this year, CGS-CIMB believes that LG Display won't reach this figure until 2020.

Timeline shows when major manufacturers are expected to launch a foldable phone
As for Apple, the report includes a couple of graphs showing that foldable iPhone models will surface in Fiscal Year 2020 and will remain a small contributor to the company's total iPhone revenue and shipping volume through 2022. A timeline produced by the analysts show that Samsung, Huawei and LG are expected to release a foldable phone in the first half of 2019. That will be followed, according to the analysts, by folding handsets released by Oppo, Xiaomi, Vivo and Mototorla in the second half of next year. The first half of 2020 should see Microsoft release its folding device, followed by Apple in the second half of the same year.