Latest iOS distribution stats show iOS 10 is now on 87% of all iOS devices
18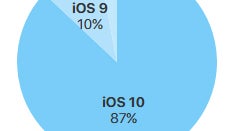 According to the dedicated distribution section of Apple's support page, a whole lot of 87% of all active iOS devices worldwide were running iOS 10, Apple's latest official version of the operating system, as of July 28, 2017.
That's merely a month and so before iOS 11 hits us, and it is quite likely that it will enjoy a wide adoption merely after a week or so after Apple releases it. Around 9% of Apple's devices are running iOS 9.
Furthermore, around 3% of all devices are powered by an earlier version of the operating system.
Meanwhile, the situation over at
Android's bandcamp is a bit bleake
r - merely 11.5% of all active Android devices are powered the latest official version of Android Nougat, whereas the majority of devices, some 31.8%, are running on Android Marshmallow. Of course, what really matters is the Android security patch level, but it's still painful to know that the vast majority of Android users are enjoying a two-year old variation of the OS.
Speaking of iOS 11, feel free to check out our preview of that one, as well as our round-up with all the important new features that are incoming.