Microsoft's foldable 'Surface Phone' could be back in play
17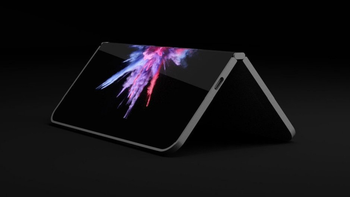 The foldable Microsoft device that was dubbed "Project Andromeda" and believed to be the Surface Phone,
was put on hold last summer by Microsoft
. But a recent patent published by the World Intellectual Property Organization (WIPO)
spotted by Windows United
(via
MSPoweruser
) focuses on the hinge that could be used on the device. The hinge will allow the Surface Phone to be used like a laptop in landscape orientation; one display on top would be used as the screen with the bottom display used as a virtual QWERTY keyboard.
The hinge also allows the display to rotate a full 360 degrees, and lets the user turn the device into a mobile phone. An illustration that was part of the patent application shows how a user can open the fold just a tad to see notifications and reminders. In general, the illustrations show how complex the hinge is, something that can be deduced just by reading some of the application.
"The present concepts relate to devices, such as computer devices, that use hinge assemblies that can rotationally lock first and second device sections relative to a hinge axis, such as a first hinge axis related to the first section and a second hinge axis extending refers to the second section.

Some of the present hinge assemblies may be considered to be provided with a pop-up feature in that the hinge assembly can automatically open the hinge from a closed position when activated by a user. Alternatively, or in addition, some of the existing hinge assemblies may provide a path for a conductor through the hinge assembly that exposes the conductor to only a single axis of rotation during rotation of the first and second portions."-Microsoft patent application
Late last year technology writer Brad Sams said that Microsoft's plan is to
release the foldable product near the end of this year
. However, Sams says that it will be larger than previous renders showed, and may not be pocketable after all. Still, if the device offer telephonic capabilities and uses a version of Windows 10, it could be a big hit for the gang in Redmond.