Ladies and gentlemen, you are invited to take your first look at Google +1 social network
1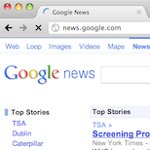 A leaked screenshot of what is strongly believed to be
Google's +1
social network is now available. Let's start with the fact that the screenshot you are seeing right now is confidential and you and us are not supposed to look at it at all. Still, we do, so let's explore the interface of Google +1.
It seems that most of Google +1 is going to be found in the toolbar at the upper end of the well-known Google services. The prominent place of the loop button all but confirms the rumours that this Google +1 thing is going to be centered around
"loops"
. As we informed you, it's widely presumed that you are going to be either in or out of a certain loop and that would determine whether you are going to have access to a certain information or not. Then you have the "Confidential!" sign, which we are going to miss and that's when we reach the big
share button
. It seems that Google is giving special attention to the share options with its prominent location. Next to the share button is a very minimized profile picture along with your Google account and a numeric count. It's anyone's guess what this count is all about (and you are invited to share your guess with your comments), but it could very well be the number of links you have shared or the number of +1s that you have been given. After that, you have the settings button, which we are most eager to explore, but for now we would have to wait a little bit longer.
The launch date of Google +1 is rumoured to be early next year, although nothing is certain at that point, except that we can't wait to try it on our Android-powered smartphones. The last few days have been quite busy for the Mountain View-based company with the official introduction of the
Google Nexus S
, the launch of
Gingerbread
and the first taste of
Honeycomb
. What's your initial impression of Google +1?
source:
TechCrunch