Lack of antenna coating on some iPhones may be part of the problem
This article contains unofficial information.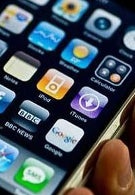 We recently
reported
how your body can be responsible for the bridging of two antennas on the iPhone 4 when you hold the phone on the bottom left of the device. There are reports circulating that a coating that was supposed to insulate the antennas and prevent your body from detuning them, was accidentally left off of some units. When an iPhone 4 user called Apple tech support, he was told that once the Cupertino based firm decides what the solution is to the problem, "defective" iPhones will be repaired or replaced. For now, what the company is telling users to do is to reset the network settings, flip the "Airport mode" on and off (which ironically is something that we have found works well when a Motorola DROID loses its 3G signal) and avoid holding the phone in the lower left corner. If the problem is indeed the lack of a coating, it can be easily fixed with new production runs. In fact, this might have saved a lot of agony for those who held out for the white iPhone 4, because when the production line rolls on that version of the device, all of the issues surrounding reception will probably be taken care of. On the other hand, the coating theory pre-dates Apple's
announcement
that the problem is related to the miscalculation of the signal bars on the phone, so it is possible that it is not responsible for the iPhone 4's reception problems at all, in which case we are back to square one.
Apple iPhone 4 Specifications
|
Review
source:
TheWhiteiPhone4blog
via
electronista