Apple iPhone 4's signal problem explained
This article contains unofficial information.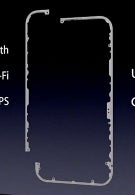 Why does the iPhone 4 drop signal strength when held a certain way? AnandTech did an exhaustive study of the problem and came up with some interesting things. First, the antenna for the device is the stainless steel strip that runs around the outside of the handset. The smaller part, running from the bottom left to the top, is used for GPS, Bluetooth and Wi-Fi. The remainder, running around about three quarters of the phone, is used for cellular communications. When you hold the phone in the bottom left, your body becomes a conductor, putting together the two antenna which detunes them. Had Apple insulated the antennas, we would not be hearing about this problem.
A test was set up with the Apple iPhone 4, the 3GS and the Nexus One. Each phone was held in one of 4 different ways. The phones were cupped tightly, held naturally, on an open palm, and in a case held naturally. The results showed that when the phones were cupped tightly, the iPhone 4 had the lowest signal strength with the 3GS out performing the N-One and the iPhone 4. When held naturally or held in the palm of one's hand, the results were the same with the 3GS outperforming the Nexus One by a wide margin. In a rubber case, the results were a bit different. Although the Apple iPhone 3GS again had the best signal, the iPhone 4 slightly outperformed the Nexus One. Further testing revealed that the antenna on the iPhone 4 works better than the one on the 3GS when the signal is low. Areas where a call would drop on the 3GS would find the iPhone 4 able to hold the call. With a bumper case on the new iPhone, places that were previously dead zones were able to host a call and provide data. According to the tester, this proves the superiority of the new antenna. The problem is that while a rubber case would resolve most of the issues, handing them out would be an admission of guilt by Apple and that most likely is not going to happen. iPhone 4 owners might have to reach into their wallet to buy a rubber case-they shelled out enough for the phone that adding $30 to improve reception would be well worth it.
Apple iPhone 4 Specifications
|
Review
Apple iPhone 3GS Specifications
|
Review
source:
AnandTech
via
BGR