LG responds to G5 metal/plastic debate
55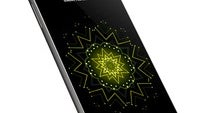 Last week, an interesting issue popped up with the LG G5 right smack in the middle of it. The story involved YouTuber JerryRigEverything, who used a knife to scratch through the phone's supposedly aluminum back plate. Surprise, surprise,
what came out was a relatively thick layer of what he and everyone else thought was plastic
on top of the aluminum chassis.
We reached out to LG to hear what they have to say about this, and the company was quick to respond. Here's the official answer:
What you're seeing there is primer, not a plastic cover. As you know, primer is used to get paint to bond to aluminum, which is what we used for the G5's body. The aluminum alloy we sourced is known as LM201b (patent pending) and was developed at the Korea Institute of Industrial Technology for use in automobiles and aircraft. LM201b, unlike the aluminum used in other smartphones, is diecast unibody which makes it very sturdy while still maintaining lightweight properties. We figured out a way to integrate the antenna bands into the aluminum seamlessly so you can't feel the lines and covered the LM201b with primer and paint using a process called microdizing which means that tiny particles of metal are infused in the coating and bonded to the aluminum. I think it's incorrect to say that a product isn't all metal if paint is involved. That's like saying cars and airplanes aren't metal because they're also painted. For the record, even metal that's anodized will scratch off. Our process may be different but it achieved what we were aiming for, which is a smooth, seamless metal finish that's durable and lightweight. We weren't interested in doing what has already been done. When did this become a bad thing?
Well, it appears that what came off when JerryRigEverything knifed the G5's backplate wasn't really plastic, but a thick layer of primer, with paint applied on top of it. In addition to hiding the antenna lines, this coating gives the G5 a warmer, slightly softer feel, which doesn't necessarily replicate the authentic feel of bare metal we've come to know from other smartphones. What do you say, guys, are you satisfied with LG's explanation? After all, at least we now know there's really no plastic involved with the G5's body!
source: LG