LG intros PH1, PH2, PH3 and PH4 Bluetooth speakers for outdoor and indoor use
7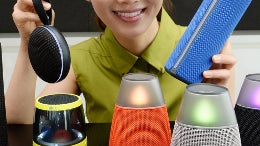 LG today unveiled a brand new series of portable Bluetooth speakers, including four models - PH1, PH2, PH3 and PH4 - each promising to "deliver the ideal audio solution" in situations where your smartphone speaker just doesn't cut it.
The LG PH2 and PH4 are made for outdoor use, being rugged and water-resistant. Both speakers offer Bass Boost and 360 degree omnidirectional output, coming with connected straps that make them easy to carry or attach to various surfaces. The PH4 is larger than the PH2, and has dual passive radiators for increased bass output and sound quality. Batter life is rated at 10 hours on the PH4, and 6 hours on the PH 2.
With a candle-like design, the LG PH3 features 5 multicolored lighting modes, definitely being an indoor speaker. The device is large enough to accommodate a battery that lasts up to 10 hours.
The PH2, PH3 and PH4 can be paired with two Bluetooth devices simultaneously. Moreover, they come with auxiliary ports that allow you connect them to devices that don't have Bluetooth, like older CD and MP3 players.
Last but not least, the LG PH1 features built-in mood lighting and can be used as a nightlight. Just like the PH3, this is an indoor speaker, though it doesn't offer auxiliary ports (so it's a Bluetooth-only accessory). Its battery can last up to 5 hours.
All four Bluetooth speakers will be released in October in various markets, including North America. Pricing and more technical details haven't been unveiled. LG will showcase its new Bluetooth accessories at IFA 2016 in early September. We'll probably get the chance to check them out then, so stay tuned.
source:
LG
Recommended Stories