LG V30's camera has an awesome "hidden" feature: here's how to use Graphy to its fullest!
1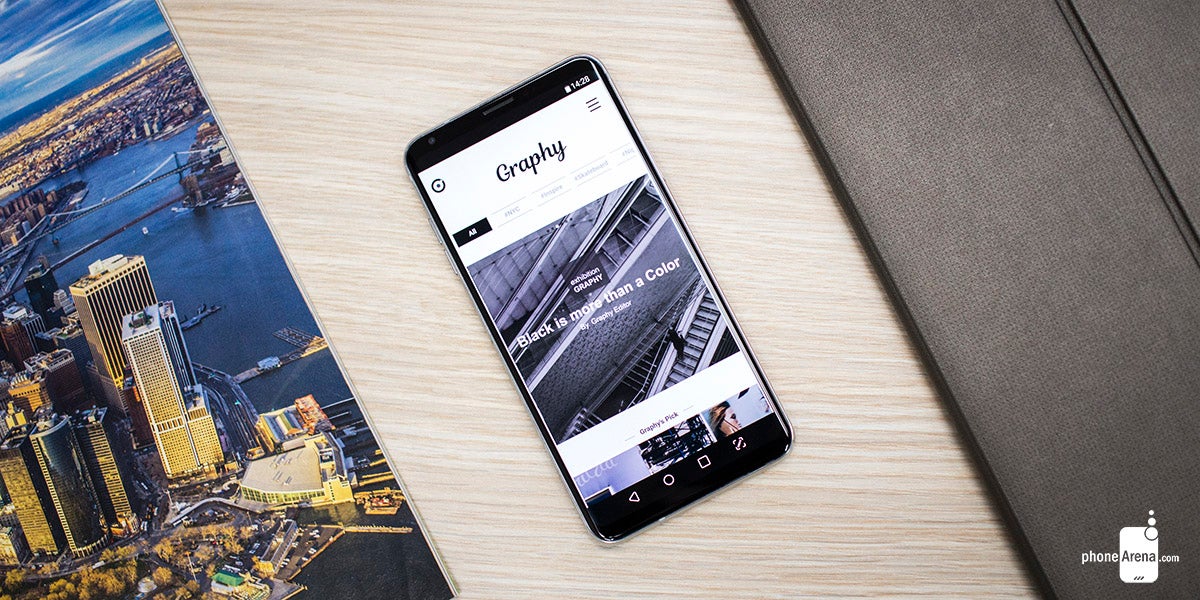 One of the best features of LG V30's camera has nothing to do with glass, or aperture size, or megapixels, and it's also hidden in plain sight! We are, of course, talking about
Graphy –
LG's fresh take on photo filters that comes built right into V30's new camera app!
So, what exactly is
Graphy
, you may ask. Well, it is part inspirational album of photographs taken by professionals from all over the world, part an ever-expanding collection of "lenses" to apply to your photos while you're shooting. Yes, it sounds a lot like a fancy selection of Instagram filters, but it is actually much more than that, in that
Graphy
doesn't just rip the color palette from one photo and apply it to another—although it would've been cool if that were an option
at all
—but it instead takes metadata from the image, such as shutter speed, ISO, and WB, and instantly turns it into a preset for you to use on the spot. Say, you are taking a night-time street photo, instead of adjusting the ISO and shutter speed manually, you can just tap on a similar picture from your
Graphy
album and have the settings applied to your photo instantly. Pretty neat, eh? But let's see how to actually get to
Graphy
, since it is sort of hidden (albeit in plain sight).
What you need to do first is go to "Manual" mode in the camera app: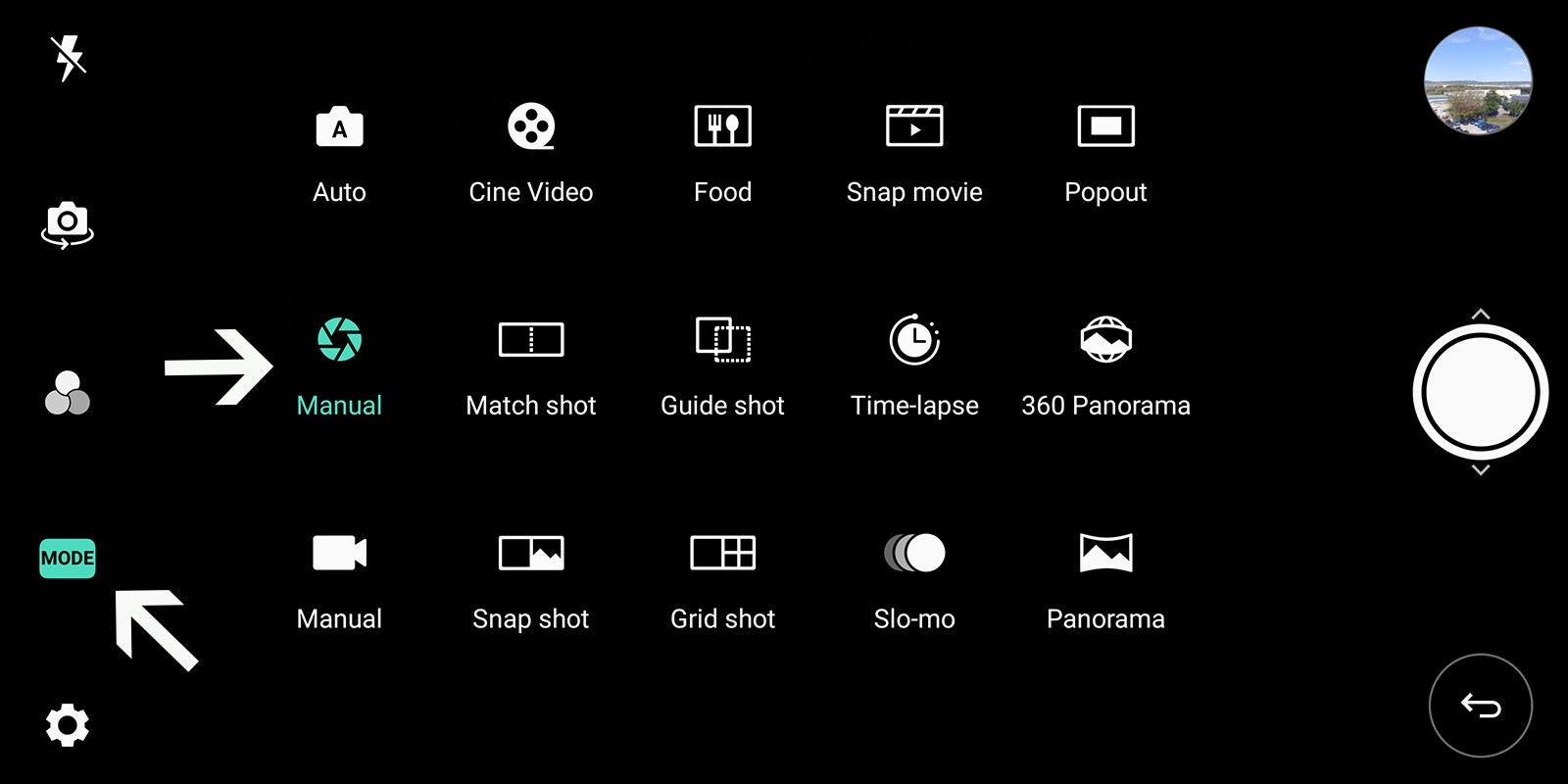 Yes, that's right, this collection of presets is actually hidden in the camera's "Manual" mode. I'm saying "hidden," only because there are a lot of people out there who can benefit from
Graphy
, who otherwise wouldn't even bother with shooting in manual. But anyway, I digress. When you go into "Manual" mode, the
Graphy
icon will pop up on the right-hand side, near the gallery badge. Tap on it and it will expand into a scrollable bar of "lenses" to choose from, like so: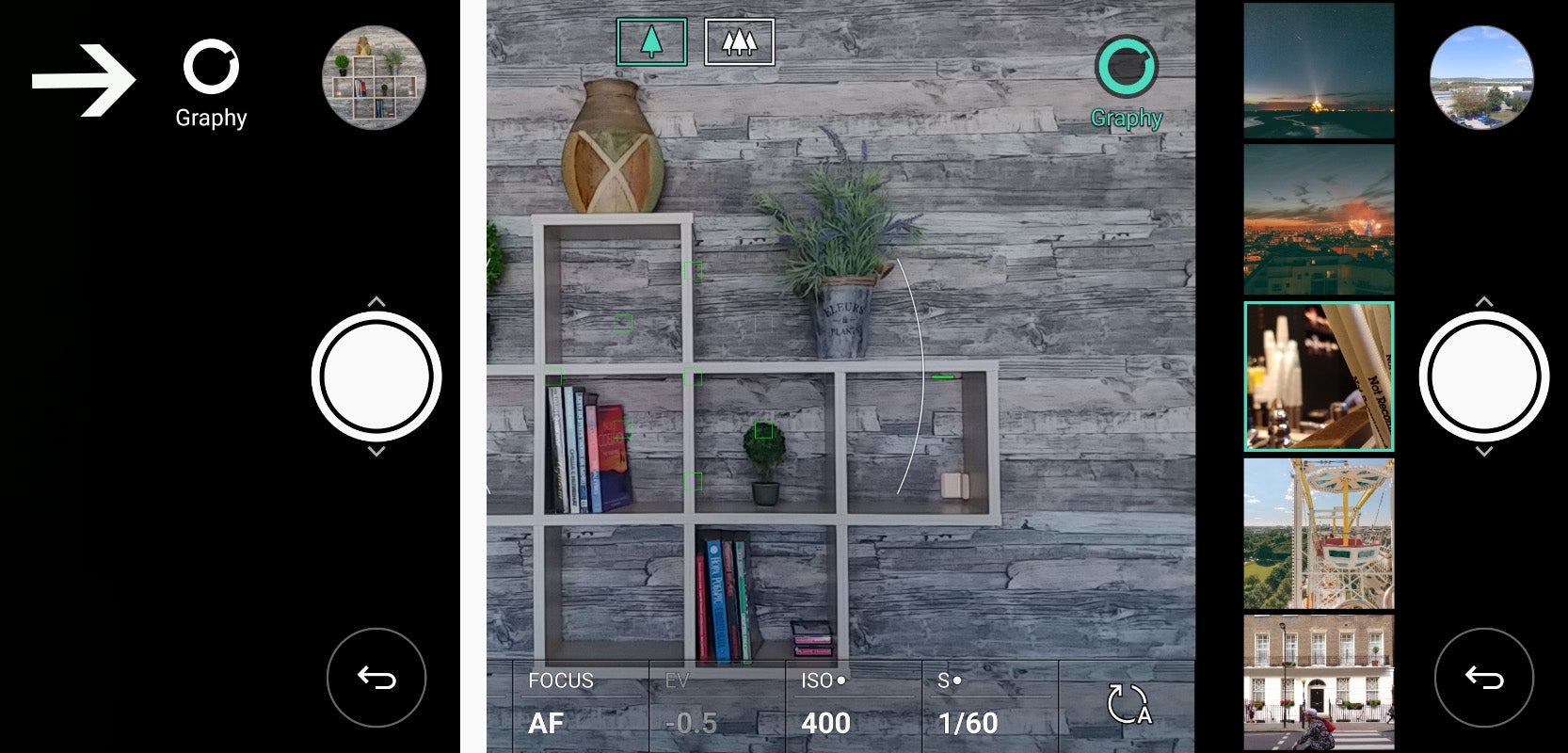 1 - Tap the Graphy icon; 2 - Select the lens you wish to use
The LG V30 comes with a bunch of
Graphy
lenses pre-loaded, but if you want to add more, you need to hit the "+" button, which will then prompt you to download the stand-alone
Graphy
app from Google Play. Do so and continue reading.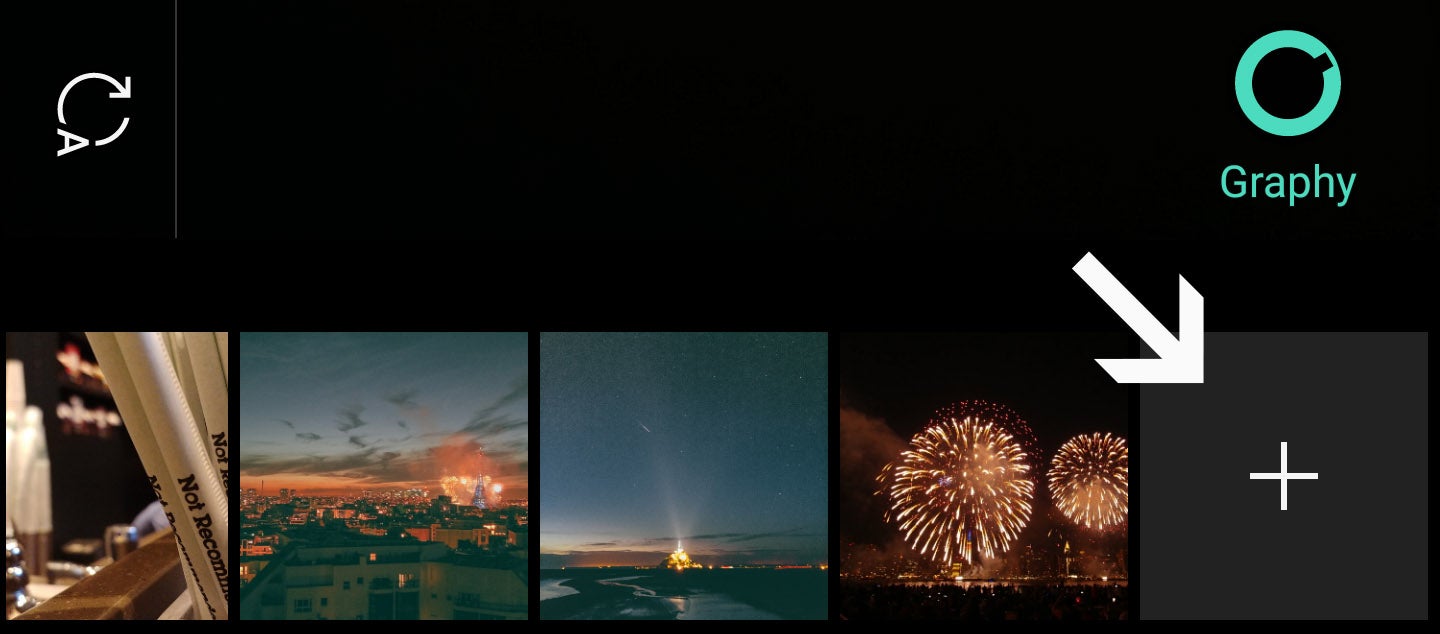 Hit the + button to add more styles
Once you have the
Graphy
app installed, it's time to check it out! It is organised in a way that everyone who's ever used any image sharing social platform will be familiar with. There's a sandwich menu in the upper right corner with the different categories in it, and a shortcut to the "Lenses" section to the left.
The app itself is very streamlined and offers a keyword bar where hot searches and topics are organized by hashtags. There's also the main gallery and a "Makers" sections, the latter of which houses information and interviews with the many creators who have participated in the making of
Graphy
.
But let's get to the chase – how do you use the so-called "Lenses"? Well, it's pretty easy, actually! All you need to do is go to "Lenses," tap a photo you like, and then tap on the animated icon at the bottom of the screen:
And that's all there is to it! The photo will then appear in the
Graphy
bar in V30's camera app and will be accessible directly from there for further use! Also, here's a hint:
you can long-press every "Lens" in the camera app to preview the image and see the EXIF data!
Now, do keep in mind that
Graphy
is a pretty new platform at this point and that LG is planning to expand it with a lot more features and styles to choose from in the future. Who knows, maybe soon V30 owners will be able to share their own photos on
Graphy
for others to use. If LG makes this happen and also starts holding regular contests on
Graphy
, the platform will have a real chance to gain some momentum in a market that's otherwise oversaturated with photo filtering apps. It will also no doubt benefit from integration in older LG phones, or at the very least, the LG G6.
ALSO READ: