LG V20 may have an issue with rear camera glass shattering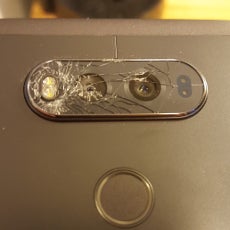 Update:
We have reached out to an LG representative who has advised us that the company is "looking into" the issue. We'll pass on any further information as it becomes available to us.
Early adopters get the warm, fuzzy feeling of being the very first to try out new tech, but there are drawbacks. They also assume the role of guinea pig, and get to experience any minor and major flaws in all their glory. The
LG V20
is among the most recent devices to have hit the market, and having seen
what happened to its compatriot's flagship phab
, LG has apparently put the
V20
through extremely rigorous stress tests
. Still, some owners have found that the glass protecting the rear cameras shatters and cracks with apparent ease.
At this stage, it's too early to know whether this is a potentially widespread problem, or simply a few isolated incidents. A short while back, YouTuber
JerryRigEverything
put the device through
a series of tests
and notably, the glass over the camera lenses appeared to shatter spontaneously after a couple of light abrasions. Though most users won't be scratching their devices at will, the video did demonstrate what could happen if, say, the device's camera glass was to interact with general pocket fodder like keys.
According to a couple of threads on Reddit, one V20 owner found their device shipped with cracks right out of the box, before they even got to use the device. Another user spotted such damage after a few days' usage, without having dropped the device.
So far, the V20 is shaping up to be one of LG's better efforts of recent times. But a shatter-gate or anything of the sort would be a real blot in its copybook. For now, owners and soon-to-be owners of the LG V20 could do worse than invest in a decent protective case.
Has your LG V20 experienced this issue? Be sure to join the conversation in the comments below.