The LG V20 goes through scratch, bend, and burn test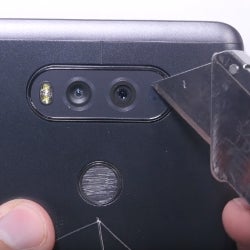 YouTube's JerryRigEverything has put the new LG
V20
through a scratch, bend, and burn torture test. We get to observe that the LG V20 comes with a pre-applied
screen protector
that was removed for the purposes of scratch testing. The glass covering of the screen proved durable enough that no coins or keys will be able to scratch it. However, LG used plastic for the top and bottom of the front panel, which means these parts might scratch easily.
Still, the speaker grill and buttons are made of metal, so they ought to prove rather sturdy. The V20's back panel, though, is made of metal. The material is durable, but prone to scratching by objects such as keys. The test involved scratching the fingerprint scanner too, which still worked after the procedure. The camera lens has a protective cover as well, but it may still scratch and potentially shatter if there are small abrasions.
In the burn test, the V20 lasted for about six seconds before the display started turning black. It recovers quickly, though. As for the bend test, the V20 seems to flex a little more than the V10, but it doesn't break easily. The back panel and the battery did pop out a little during testing, but the phone still functions and doesn't snap.
It looks like those thousands of durability tests have proven their merit, for the V20 is indeed a reasonably durable smartphone. However, putting in a protective case is still recommended if you want to preserve it in its best shape and form.
ALSO READ