LG V10 vs Samsung Galaxy Note 5: the user experience
78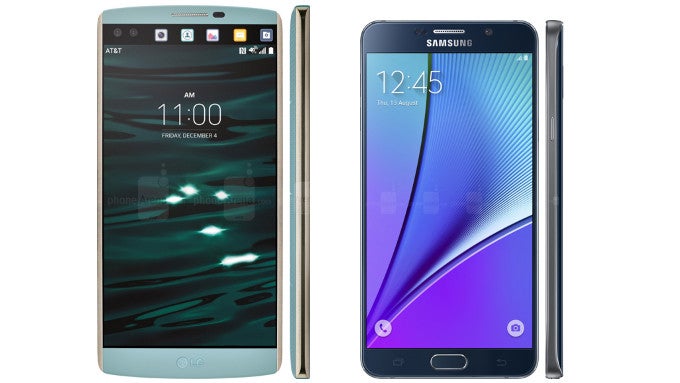 LG's most recent offering in the high-end market is a pretty interesting device – a premium phablet with stainless steel bars on its sides, a secondary screen dedicated to notifications and quick shortcuts, and a manual mode for video, which gives us the most elaborate menu for recording on a smartphone to date. The device also performs pretty stable throughout day-to-day activities, and the LG UX runs smoothly on it.
However, if there is one player to beat in the phablet class niche, it's the fan-favorite Note line from Samsung, and this year's
Note 5
didn't come without its own shiny style. A metal body, sandwiched between two Gorilla Glass 4 layers, with the one on the back being curved for extra ergonomics all work in unison to create an attractive handset, while Samsung's newly redesigned TouchWiz skin is much snappier than before.
In terms of hardware – both devices are top-notch. Sure, one can definitely argue that the Exynos 7420 SoC in the Samsung is more powerful than the Snapdragon 808 in the
LG V10
, but in real-world use, differences in performance between the two devices are rarely noticeable. And it's the real-world use that we want to take a look at here.
After having spent a couple of months switching between the two devices as daily drivers, we'd like to share with you the little nuances of how one caters to user experience better than the other, and vice-versa. Ready for some nit-picking?
But that's not to say that the V10 is in the lead. Oh, no, no – Samsung's phablet is a user's dream in its own ways. Let's see how it will make your life easier in "The Note 5 strikes back!"
And that's it – two awesome phones, both not without their own flaws. You may have noticed that we didn't mention the S Pen – it goes without saying that if you want to draw or write by hand on your smartphone, the Note is pretty much a winner before the race even begins. In fact, why don't you share with us – what is it that you look for in a phablet?