LG Panther not pink, just a Windows Phone 7 model that likes to be photographed
This article contains unofficial information.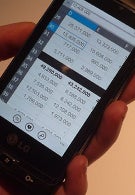 The first Windows Phone 7 model to pose in front of a camera, the LG Panther now looks ready to pounce on cellphone fans. We first
showed you
this phone a couple of months ago, before the OS had progressed to the level it is at now. What level is that? Well, the build of Microsoft's finger friendly OS installed on this unit works well enough for a Microsoft executive to use this particular model as his everyday phone. Others who got the chance to play with the handset said that it "felt like a "finished product" and had a "sturdy sliding mechanism and decent landscape keyboard." The display also received some positive comments as did the Panther's support for Office and the model's interactive homescreen. Microsoft has also added some cute little touches. A smiley face logo turns into frown as unread text messages pile up. The calendar can spot an address you've typed and help you grab a map from Bing. We would expect to see this Panther in Santa's bags of presents this coming holiday season.
LG Panther Preliminary Specifications
source:
ElectricPig
via
TechTicker