LG, Pantech, Samsung, get fined over price fixing in Korea
3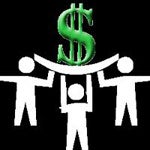 South Korea's Fair Trade Commission has lowered the boom on several domestic mobile phone manufacturers, as well as the three largest network carriers in South Korea - KT, LG Uplus, and SK Telecom. The FTC found that the companies involved colluded to raise the price of cellphones, so they could offer "discounts" that still padded their bottom lines.
The South Korean FTC specifically calls out the complicated pricing structures of carrier subsidies, which they found were exploited to fool customers into thinking they were getting a deal on devices that were originally intended for a lower market price than the advertised "discount" price.
As a result more than $40 million in fines were handed out, with Samsung getting a hefty $12.6 million dollar fine, which was topped only by the $17.8 million dollars charged to SK Telecom. In addition to the fines, the companies were ordered to turn over all information on incentives and other financial exchanges between phone manufacturers and telecoms.
The Korean market is fairly small, allowing a handful of large companies to control the market effectively. Yet it's not like we haven't seen
fishy pricing strategies
in the
U.S. and other countries
. Verizon's overcharging for
4G Android handsets
springs immediately to mind, even if their malfeasance wouldn't qualify as price fixing.
source:
Yonhap News
via
electronista