LG Optimus L5 Hands-on Review
9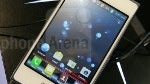 To tell you the truth, we love such balanced handsets like the LG Optimus L5. That's because they often come with pretty decent specs, good amount of features, but at the same time don't cost a fortune. In short, we love affordable but still powerful handsets. Will the Optimus L5 be one such phone? Well, we can't be sure yet, but it does seem so.
If you are looking for a smartphone with extreme specs, you've come to the wrong place. First of all, this is a appearance-centric device, and second, it is mid-ranger, so when you put two and two together, it becomes evident that this isn't a handset for the hardcore users. An 800 MHz processor is powering the Optimus L5, while the screen measures the relatively compact (for today's standards) 4 inches.
Although it's a style-conscious handset, the L5 is still made from plastic, but still, it does have those metallic accents that LG promised, framing the front side. Indeed, the phone is quite elegant and we think that it will appeal to its target audience.
Similarly to its brethren, the LG Optimus L5 will have Android 4 ICS preinstalled, along with LG's own Optimus UI to bring a hint of differentiation to the handset. Thankfully, LG has focused more on adding functionality than skinning the UI, although they have incorporated some pretty nice animations and transitions here and there to enhance the experience. One example for added functionality is that you now have a separate Downloads section in the main menu, where you'll easily find all of your downloaded third-party apps.
Unfortunately, some unpleasant compromises have been made with the L5. For example, it only has HVGA resolution, and having HVGA (320x480) on a 4" screen means that there's some visible pixelization going on. We also saw some stuttering while browsing around the UI, but the units we tested at MWC weren't final, retail ones, so these kinks might be worked out by the time the handset hits the market.
We do like this L-Style handset by LG. Its rectangular shape and contemporary features mean that it should be a worthy offering for users who need a capable smartphone, but do not want to sacrifice on the appearance department... and like their piggy bank the way it is – intact. Unfortunately, there isn't much availability info yet, but we expect the Optimus L5 to launch sometime during the first half of the year.