LG Optimus G Nexus will run on Android 4.2: first hands-on report surfaces
60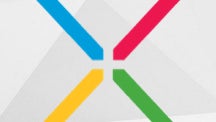 The
LG Optimus G Nexus
is coming. The first Optimus G Nexus devices were passed for testing to Google employees last week and the device will run on Android 4.2, according to a source close to Google, but not a Google employee.
The Optimus G Nexus will obviously be based on the monster LG Optimus G, and will feature an 8-megapixel camera judging from a sample sent to Android and Me (that sadly could not be published). And here is the first hands on report about this device:
"
I can confirm the next nexus is LG Optimus based.
The phone looks surprisingly like the Galaxy Nexus and does not have sharp corners like the LG Optimus we already know. It has a silver'ring like the iPhone 3G around the outer edge of the screen which seemed to be similar to the Galaxy Nexus in size but was much better in brightness.
I couldn't have said if it was larger in the few minutes that I had the phone. Also, it has Nexus written on the back like the Nexus 7 except there is a color element to it. The 'X' is in four colors. There was also the LG logo on the back.
Android 4.2
in its current state looked exactly like the 4.1.1 we love. There were no tabs on that build version for home-screens as you suggested from your other tipster. What I was amazed by is how fluid everything seemed to be from exiting apps, switching, etc. It seems like they've increased the number of transitions and their types. It still had the hodge-podge mess of multiple communication tools: Messenger, GTalk, Voice and SMS."
This is all great news as the LG Optimus G is a great phone on its own. You can check out our
Optimus G hands on
to find out more about it, and best of all, you'd soon be able to buy it on AT&T. We still wonder whether there's any truth in the earlier rumor about the
LG Nexus device being water-proof
in some way, but we guess we'll be hearing more about this very, very soon.
source:
Android and Me