LG Optimus G (International) hands-on
27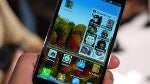 Back for seconds, we're able to get yet
another look
at the international version of the
LG Optimus G
– the company's biggest undertaking so far! Without a doubt, this smartphone is teeming with drool worthy specs from head-to-toe, thus, making it a serious contender in the always-competitive top-shelf Android smartphone market. Interestingly, LG was kind enough to confirm that the quad-core and LTE packing device will indeed be
making its way to the US sometime in Q4
, but it's still anyone's guess as to who will be getting the device – and at what price point.
Just like the first time around, we're not too convinced by its
predictable design
, since it doesn't stray too much from the typical design style we've seen LG employing with its devices. In addition, it's pretty wide in the hand and boxy looking, which seemingly makes it a bit cumbersome to hold in the hand. Employing an all-plastic body, the only thing to catch our eye is the illusion-like patterned design of its rear casing, as it switches its pattern according to our viewing angle. Of course, it's a
slick touch
, but it tends to exhibit a lot of smudging and fingerprints.
As for the
4.7" True HD IPS LCD display
it's bringing along for the ride, it's naturally attractive with its natural color reproduction and wide viewing angles – though, it has a bit more saturation. Not surprisingly, details are crisp and clear to make even the tiniest of text extremely visible to the eye. Still, as much as it stands out, it's nothing that's particularly groundbreaking.
Well, the main standout of the handset is its combination 1.5GHz quad-core Qualcomm Snapdragon S4 Pro processor and 4G LTE connectivity – something we haven't seen before on a handset to date. While navigating through the interface, which is none other than LG's latest Optimus skin running on top of Ice Cream Sandwich, it
exudes plenty of finesse
with its actions to soundly make it a processing powerhouse. When it comes down to it, the LG Optimus G is one of the snappiest Android smartphones we've come across to date – as everything is accompanied with slick movements and executions. However, we're still not too impressed with the customized interface, since it still appear somewhat antiquated.
Obviously, there are plenty of other things that propel the LG Optimus G in being a premier smartphone – like its 13-megapixel camera and specific software enhancements. For LG, this is clearly shaping out to be their most refined device to date, but let's hope the final product can win us over in the software department. Needless to say, high spec'd hardware can only do so much for a handset, but the software experience is the second part of the equation needed to solidify its status.