LG G7 vs OnePlus 6: which upcoming phone are you more excited for?
56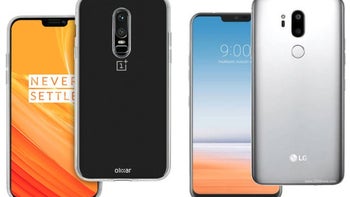 OK, so as far as we know, we are in for a double treat this late April / early May. Industry veteran LG is
about to unveil its new flagship
— supposedly called
G7 ThinQ
— and the fairly new kid on the block OnePlus
will also be releasing
its "2018 flagship killer" — the
OnePlus 6
.
And the fight between these two might, in fact, be fierce. Both will come with a full-screen display with a notch at the top, both will feature the latest-and-greatest in flagship hardware. LG has its name backing it up, but it's fair to say that the manufacturer has been losing some steam in the past years and its phones were very quick to drop in price post-release. On the other side, OnePlus is gaining momentum with very few bumps in its path — what was once a company only recognized by "smartphone geeks" is slowly creeping its way into the mainstream. And its prices are rising each year, too — we started with a $300 OnePlus 1 and had a $500 OnePlus 5T late last year.
So, in some sense, there is competition to be found here, especially when you consider that both devices are launching in the same time window.
All that said, which one are you more excited about?