LG G7 unveiling event set for May in New York
17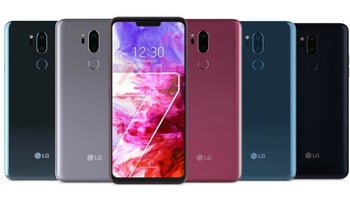 After all the leaks and
press render scoops
, it was bound to happen. The invitation for the
LG G7
announcement event, that is. If you have been waiting for the day when the last big holdout of a phone company will announce their seasonal flagship, today is your lucky day.
LG just took to the airwaves, and elaborated that, first, it does have a G7 in store for us, and, second, it will indeed be called G7
ThinQ
, like, uhm, its line of smart washing machines and refrigerators at first, and then the
LG V30s
last month. Oh, we almost forgot the third and most important part - the phone will be announced in New York on May 2nd, which apparently already be May 3rd in Seoul, as that's when the press release says the public event will be held there.

We will be at the gala to relay to you all the festivities, and can't wait to see
what LG has cooked up
. So far, it's a lot of Snapdragon 845, notch-y screen-to-body ratio, and a dollop of AI - of the Voice, Empathy and Vision varieties - that are bandied about, but what we are really curious about is the pricing range LG decided to put the phone in. If you have been worried that the phone won't focus enough on artificial intelligence, these calming words of LG Electronics' managing director should soothe your nerves:

Since smart phones have focused on filling new functions and more functions so far, it is time for us to find solutions to how convenient customers actually use them. We will show the convenience that we have not seen until now by concentrating the accumulated AI technology.