That recent "LG G7 render" is a fake, and here's why
9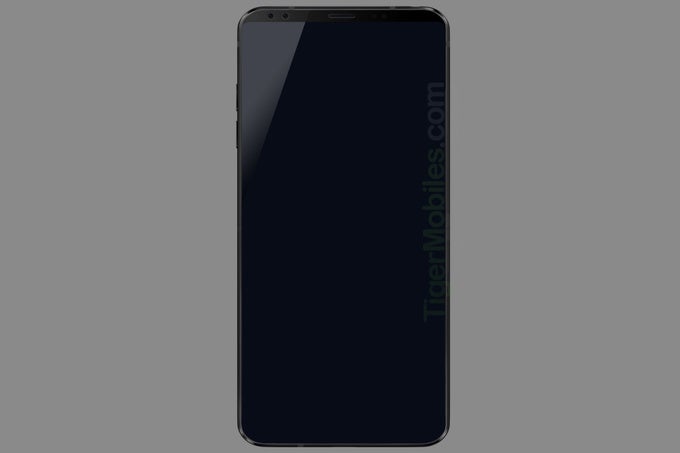 Nope, this isn't the LG G7
It was last Friday when an
image claiming to reveal LG's next flagship smartphone
– the
LG G7
, or whatever it might end up being called – appeared on the internet. The device pictured had dual front cameras, super-slim bezels, and a spacious screen filling nearly all of its front side. Hardly a surprise, the image was quick to spread around media outlets, ours included, drawing the attention of many eager to see one of the most highly anticipated upcoming phones.
Alas, the image is a fake.
We came to this conclusion after closer inspection of the image, which happens to bear the watermark of UK-based cell phone retailer TigerMobiles. There were two bits of evidence that popped up like bread out of a toaster, and we'd like to share them with you.
Clue #1: the off-center earpiece

Here is the alleged LG G7 image from up close. We've enlarged and lightened it up a bit to make things more visible. The red line we've drawn over it goes down the middle of the phone. Notice the off-center earpiece? Clearly, the image we're dealing with is photoshopped, and not very well at that.
Speaking of Photoshop, the embedded data in the original "G7" image made a mention of Adobe Photoshop CS3. Coincidence? We think not.
Clue #2: the familiar reflections
Whoever put this "LG G7 render" together based it on an
LG G6
press image. How do we know? The reflections off the metallic frame in the four corners of the device looked very, very familiar, so we compared the render against a couple of official LG G6 images. One of them was a match, differing only in brightness and contrast. The placements of the antenna slits and the 3.5mm headphone jack were also identical. You can compare the bogus image against a legitimate one in the sliding gallery below.
< Fake LG G7
Real LG G6 >
Keep calm and carry on
We owe you an apology for spreading this particular bit of misinformation without investigating it further. We're only humans after all, and fakes like this slip through every once in a while. The level of journalism we're striving for is much higher than that.
At this time we're not yet sure what the LG G7 is going to look like. We don't know for sure if it will have dual selfie cameras or just one, if it will be modular or not, if it will have a Snapdragon 845 inside or a chip of an older generation. But if you'd like to catch up on the latest LG G7 rumors and speculations, the articles below may be of interest.