LG G6 vs G5, G4: should I upgrade?
14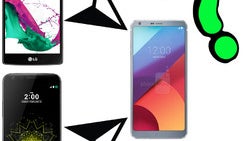 The
LG G6
is
out
and it's definitely a drool-worthy piece of hardware.
Amazing screen-to-body ratio
, beautiful design, and a lot of time spent on fine-tuning its operation and performance, as per LG's own word. Surely, there are LG device owners out there right now, spending more time than one would consider reasonable staring at pictures of the new phone and then beaming over to their own G5. There's that burning question:
Should I upgrade to the LG G6?
There are always a few things to consider when buying a new phone — is your model obsolete, does the new device offer more than just bling, is it worth the investment, so on and so forth. We'll be looking at this question from a couple of perspectives — one for
LG G4
owners, who should be due for an upgrade on their 2-year-old device soon, and
LG G5
owners, who might be itching to try the new thing while it's hot. Let's take a look at a few key features that the G6 has going for it.
That screen!
Enormous display, small body
The LG G6 has a 5.7-inch display, yet the phone is more compact than the LG G5, which has a noticeable smaller 5.3-inch screen. Yes, this is how thin the G6's bezels are. There is absolutely no denying this — if screen size is your primary thing, it's hard to resist the temptation of buying LG's newest offering.
What if you own an LG G4? It still has a slightly smaller 5.5-inch display, while the phone is roughly the same size as the new G6, only slightly clunkier in shapes.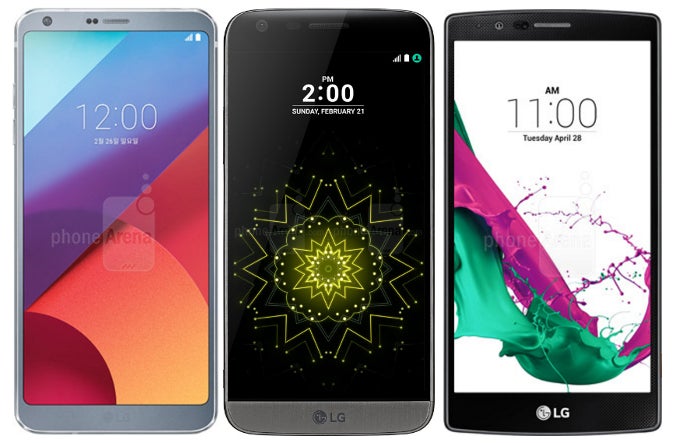 Dolby Vision
It hasn't just improved in size — the G6's display supports Dolby Vision and HDR10. What does that mean? Better contrast — a wider range between black and white, exposing more detail and lifelike imagery —, more vibrant colors, and dynamic scene optimization — meaning the phone auto-tunes the display to optimize viewer experience for every scene.

Dolby HDR demo showed enhanced, punchier colors, and a more pronounced contrast
Big screen, awesome colors and contrast, small body. If media consumption is the name of your game, the G6 is a hard-to-resist temptation.
All-new hardware
The LG G6 comes with a Qualcomm Snapdragon 821 processor and 4 GB of RAM. In the meantime, the G5 has a Snapdragon 820, and the same amount of RAM. So, will we get a huge performance boost from the newer model? Most likely not. The 821 is built very similarly to the 820, but offers slightly higher clock speeds.
However, the newer processor supports the Snapdragon VR SDK. As you might have guessed, this is a driving force behind Google's Daydream platform. Basically, if you are all hyped about VR, you might consider upgrading from the G5 to the G6, especially since the G5's 360 VR goggles weren't especially great.
For G4 owners, the jump in hardware will be much more pronounced, as the 2-year-old flagship sports a Snapdragon 808 and 3 GB of RAM. You will enjoy a snappier performance and will get access to the aforementioned Daydream VR platform.
In terms of processor and memory, G5 owners shouldn't be hasty to pull the trigger, but G4 users should be happy to do so.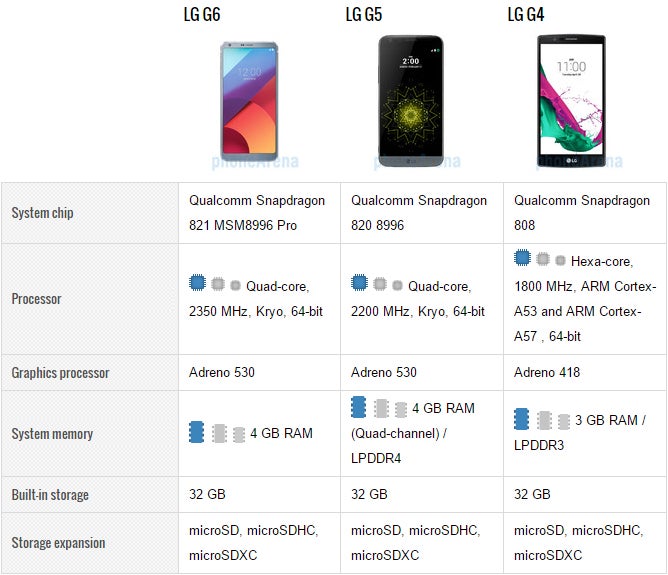 In terms of battery, we've got a 3,300 mAh cell in the G6. For comparison, the one in the G5 has a 2,800 mAh capacity, and the one in the G4 has 3,000 mAh of juice. So, the G6 may have a slightly longer battery life than its predecessors, but it's too early to tell.
Camera upgrade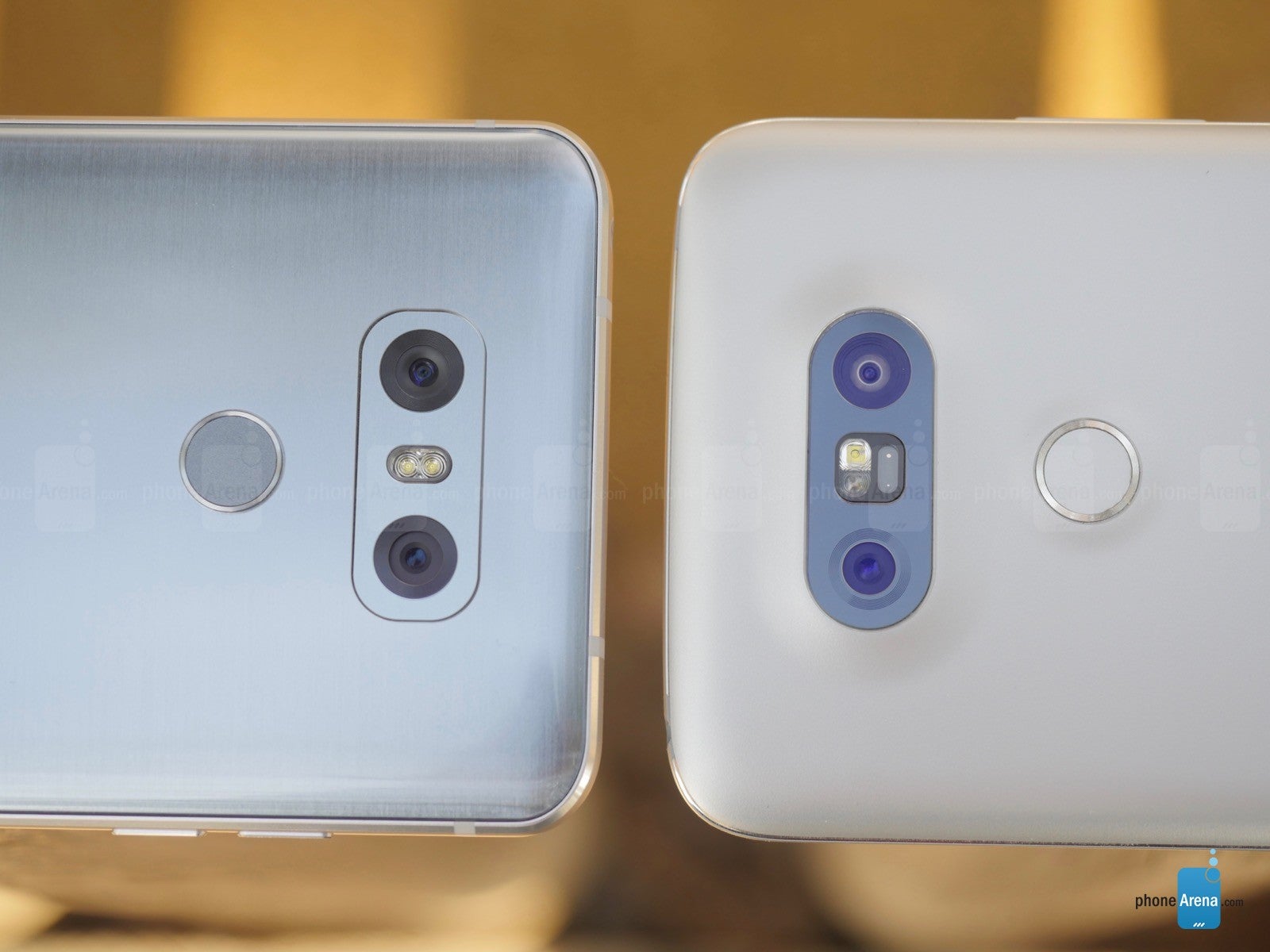 The LG G5 had a dual camera module on its back, with a "regular" 13 MP camera, and a 135-degree, wide-angle snapper that had a smaller, 8 MP sensor. The G6 sports the same resolution for its main shooter and the wide-angle snapper gets boosted up to 13 MP as well. Not much to entice G5 owners to upgrade, admittedly, unless you are using the wide-angle lens exclusively.
Now, it's worth noting that the G6's camera
interface features a Manual Video mode — something that has thus far been exclusive to the V10 and V20. Whether this feature will be passed down to the G5 via a future software upgrade is unknown at this moment.
For the G4 owners, the whole dual-camera sensor will be an entirely new thing. But if you're not really that into the whole wide-angle photography deal, we'd say that the G4's main camera is still pretty adequate today. We are, however, fairly certain that the chances of getting a Manual Video mode on the G4 are less than slim.
It's also worth noting that the front-facing camera on the G6 has... changed. It has an 8 MP resolution on the G4 and G5, but is slapped down to 5 MP on the G6. This is in favor of a wide, 100-degree viewing angle for selfies against massive backgrounds or taking group pictures. If you want a more "orthodox" look, without the distortion that comes from the wide-angle lens, there's a mode for that, but what it does is zoom in and crop the image. As a result, the selfies are... not the best.
Things to consider and final verdict
There are also a number of smaller details to consider — pieces of the puzzle that make the G6 as cool as it is. The camera bump has been neutralized on the G6, and its back is completely flush. Wireless charging is now available for US versions of the device. And there are a number of software features that make use of the 2:1 display ratio, which just can't be effectively passed along to the older flagships.
It's also worth noting that the G6 comes with Android 7.1 Nougat and has the Google Assistant on board — the AI that has thus far been exclusive to the Pixel devices and we had no idea whether it'd be hitting 3rd party smartphone makers. Well... it seems like it will.

Final verdict? Well, we would say that the LG-faithful that are still rocking a G4 should be happy to upgrade to the G6 — it's awesome in every way. G5 users, we feel, shouldn't be quick to jump the gun. Unless you are super-excited about the new form factor of the G6, its Dolby Vision display, its Daydream compatibility, and Google Assistant. Other than that, the G5 is still a pretty solid phone that can hold out for another year.