LG G6 goes official: stylish and durable 5.7-inch full-screen design in a surprisingly small body
48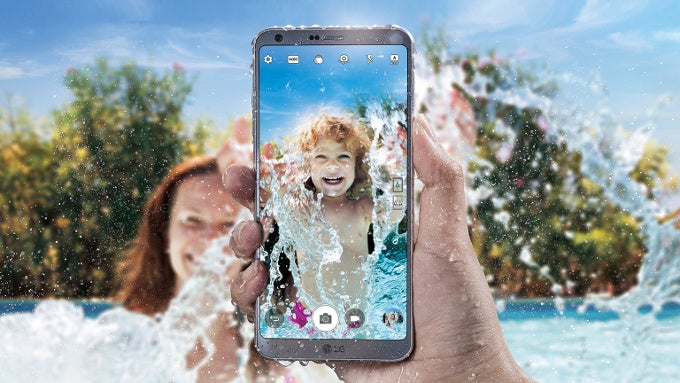 The
LG G6
is now finally official and it feels like a reset for LG, away from the previous experimental designs the company was known for. Gone are modular phones and leather backs: instead, the LG G6 is a stylish and durable phone with a trendy glass body and a metal frame. It's also the first of an upcoming wave of futuristic-looking 'full-screen' phones with tiny bezels, and it features the highest level of water and dust protection.
There is a ton of new features about the LG G6, but a lot of them center around the new 5.7-inch display that is now taller and narrower, with a new 2:1 aspect ratio. LG has somehow managed to cram this display into a phone that is actually smaller than the 5.3-inch LG G5, and the new screen has opened up new possibilities for interaction. In fact, there are so many changes in the LG G6 interface that the company has even introduced a new name for this new software look. It runs on top of Android 7.1 Nougat and allows you to do more: see bigger previews of your photos in the camera app, see more appointments in the calendar, better manage your email, see a more informative and richer weather forecast, and so on.
But before we dive in the details of the LG G6, let's first look at its specs and how they compare to its immediate predecessor, the LG G5.
LG
G6
LG
G5
Platform
LG UX 6.0
Android 7.1 Nougat
LG UX 5.0
Android 6.0 > to 7 Nougat
Dimensions
148.9 x 71.9 x 7.9 mm
163 g
149.4 x 73.9 x 7.3 mm
159 g
Display
5.7" IPS LCD, 18:9 aspect ratio
1440 x 2880p (Quad HD+)
~78% screen-to-body
Dolby Vision / HDR 10 support
5.3" IPS LCD, 16:9 aspect ratio
1440 x 2560p (Quad HD)
~70% screen-to-body

Processor, RAM
Qualcomm Snapdragon 821
4 GB RAM
Qualcomm Snapdragon 820
4 GB RAM
Camera
13MP + 13MP dual rear cam
(71° and 125°)
5MP front camera (100°)
16MP + 8MP dual rear cam
(78° and 135°)
5MP front camera (100°)
Storage
32 GB + microSD
32 GB + microSD
Battery
3,300 mAh (non-removable)
Quick Charge 3.0, Wireless charging
2,800 mAh (removable)
Quick Charge 2.0
Special features
IP 68 water protection
Modular design
Full-screen design and water protection
A lot of the excitement around the LG G6 is about the new display. The 5.7" IPS LCD Quad HD screen is tall and narrow, with a new aspect ratio of 2:1. Most videos will not fit perfectly with their 16:9 ratio, but this extra screen space also opens up other possibilities and LG has designed its new interface around it. Gone is that wasted space for the bezel: the display itself takes up nearly 80% of the screen front, a massive improvement over current phones that take up around 70% of the front or less. The screen is not curved for a reason, as LG believes that curved screen are more tiresome to handle and prone to shattering easier. In fact, the flat screen and less rounded edges provide additional structural strength to the G6 and ensure the screen is less likely to crack if you drop the phone.
The new LG G6 display also supports two wider color standards: Dolby Vision and HDR 10. The terms actually come from the TV world and while we've had HDR display phones, the LG G6 is the first with support for Dolby Vision which brings out more colors, better contrast and dynamic scene optimization in video. You can find a few Netflix and Amazon Video productions supporting this new standard, and more content will be coming in the near future.
The LG G6 is also a looker: the shiny glass back looks beautiful, and the cameras are now flush with the body, so that the phone does not wobble when you lay it flat. The G6 is also IP68 certified, meaning it's water and dust resistant to the highest standard, so you can take it with you at that pool party in the summer, use it while it rains and take it to the shower to get some tunes to sing along to.
Improved cameras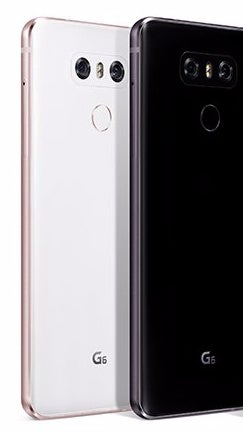 The LG G6 features two cameras on its back (now flush with the back), but instead of a telephoto lens like on the iPhone, the secondary one is a wide-angle one that gives you a field of view similar to that of a GoPro. This opens up a ton of possibilities: stunning panoramic images with a single shot, photographing in tiny spaces and creative videos with a fish-eye-like look. In fact, the wider lens sees a bit more than the human eye: it has a 125-degree viewing angle, while the human eye sees about 120 degrees.
LG has optimized the cameras with the G6 and both rear shooters are now 13 megapixels in resolution, so the image quality does not suffer as was the case when shooting with the lower-res secondary camera on earlier LG models. The field of view on the wide-angle camera is also a bit narrower, so you don't get as much distortion towards the edges of your images.
There is a new camera app that goes along with the bigger G6 display, and it makes clever use of it: you can use it to align images and create collages straight from the app, and you can see large thumbnails of your most recent images right in the camera app when you shoot.
The fly in the ointment: Snapdragon 821, not 835
The Snapdragon 835 might be the latest and most powerful system chip available, but it is in very restricted supply and rather than fight an uphill last-minute battle to get it, LG has decided to optimize the slightly older Snapdragon 821. This is the same chip used on phones like the Google Pixel, which is the most fluid running Android phone that we have ever seen, so we have high hopes for the LG G6 as well. LG has also changed the place of the chip towards the center of the phone and fine tuned the cooling pipes, so that the phone does not get too hot when you push it to its limits.
Will a 3,300 mAh battery be enough?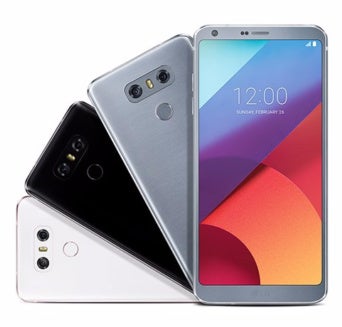 The G6 features a 3,300 mAh battery that is not removable. It supports the latest Qualcomm Quick Charge 3.0 standard as well, meaning that it takes just around an hour and a half to get fully recharged, and you can get a zero-to-50% charge in just half an hour. We still have plenty of questions about battery life: would a battery of this size be sufficient to support this large of a screen for a full day? We're looking forward to the answers.
Quad DACs for crisper audio and 64GB storage... just not in the U.S.
The LG G6 has some special features, but... you are not getting them in the United States. In some markets like Asia, LG equips the G6 with Quad DACs (digital-to-analog converters), a move that makes crisper, higher-quality sound possible, but the U.S. model is not getting that feature. Yet still, other markets will get a 64GB model of the LG G6 as the default, but the U.S. model is shipping with 32GB of on-board storage. Luckily, you do get a microSD card slot, so you can plug in your card and easily get more storage in case you need it.
LG G6 expectations, price and release date
The LG G6 is the first of a new wave of 'full-screen' phones. Being first is not a guarantee for success, but in this case, the LG G6 not only is the first, it looks genuinely thoroughly considered and meticulously crafted. It has an unquestionably beautiful, stylish design (it's a bit thick, though), it is surpsiringly small and easy to use in one hand for a phone with such a large display, and it looks plenty powerful and with cameras that hold a ton of promise.